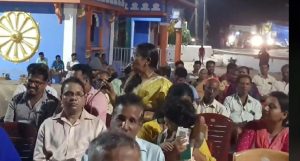 Goemkarponn desk
PONDA: Villagers of Bhoma are irked over the regular absenteeism of local MLA in the meetings convened to find a solution to the Bhoma road widening issue.
Locals said that they were expecting the MLA, following a healthy discussion will find a solution to save the village from getting destroyed.
Stating that the said meeting was convened to discuss road widening, a local Sanjay Naik from Bhoma said, "MLA has once again bunked the meeting which was organized to discuss the issue of road widening through village market.
Everyone is well aware of the adverse effects of the picturesque Bhoma village, and the villagers will have to face issues if the road is widened as the governments plan. Despite having known the seriousness of the situation, the local representatives are behaving nonchalantly", he added.
Stating that none of the members of Bhoma-Adcona Panchayat turned up for the meeting, Naik said, "We elect local representatives to voice the issues of villagers. If representatives are least bothered about the problems, why should we elect them for next tenure" asked Naik.
Naik further informed that the villagers have decided to discuss the matter with PWD Minister to seek a solution.
Ex-Panch member Vishwajit Naik, Gulab Naik, former Deputy Sarpanch Rajendra Naik, Kishor Naik, Aakash Naik, Joseph, and others were present at the meeting, which was held on Sunday evening.
Locals of Bhoma, for decades, are opposing the widening of the National Highway into a four-lane road, which is proposed to be routed through the Bhoma market.
They are suggesting that the highway be constructed through an alternate route, either as sketched in a regional plan or through the khazan area. Locals are saying the road widening through the market area will not only hamper the local market business but will also destroy the peaceful village.
Comment