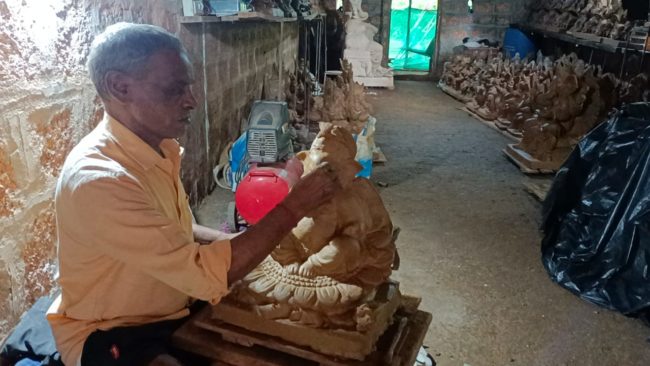 Goemkarponn desk
BICHOLIM: As the Ganesh Chaturthi is coming close, the artisans involved in making Ganesh idols in Bicholim have stated that this year, they had to face several due to lockdown difficulties.
"We had to face several difficulties as there was lockdown in the state and neighbouring Maharastra. We hardly get any clay required for making the idol in Bicholim and had to procure it from Mandrem," Sada Gaonkar from Kudchirem told.
Gaonkar says that it is now challenging to make idols as it is not profitable. In view of this, he has cut down labour costs. Most of the work of making idols he did by himself.

"This year, I did not employ others to make an idol, but most of the work was done by me. Big Ganesh idol should fetch us at least Rs 2000, but here in our village, we cannot charge them so much," Gaonkar told.
Gaonkar, who has been in this profession for more than 30 years, had a problem getting the required paint as he usually gets it from Maharastra. Prajot Govekar from Nanoda, who is in this profession for the last five years, faced the same issue. He says that now it is tough to make idols, and it is not to be looked at like a profitable business.
"We make the idols as we have been into this for last many years. We consider it as our service to God. Otherwise, there is hardly any profit." Govekar told.
Lockdown also affected Govekar, who used to get the colours from Kolhapur. "Because of this corona and lockdown, we were not able to get the colours from Kolhapur. We had to get the colour from the local market, which was a bit costly.
Not only these artists who have suffered but also all others who are into this profession had to suffer because of this pandemic.
Comment