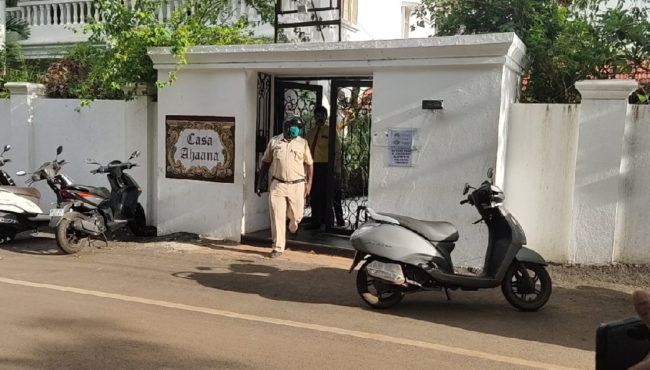 * Govt has withdrawn all permissions for films shootings in Goa in wake of COVID19.
* Film Shooting was underway in Hotel Ahana, Anjuna
* Despite informing police team no action initiated
* A policemen came has a small meeting and left in sometime without speaking to Goemkarponn team
* PI Suraj Gawas assured strict action but the shooting continued
* ESG chairman Subash Faldesai says no shootings are allowed and he would take action.
Goemkarponn desk
ANJUNA: Even as the State government and the Entertainment Society of Goa has said that all permissions for film shooting have been withdrawn, a mega expose by Goemkarponn has revealed that the shootings are underway right under the nose of police and authorities.
The Entertainment Society of Goa (ESG) on last month cancelled all permissions granted for film and television serial shootings in the state in the wake of the raging COVID-19 pandemic.
ESG is the Goa government's nodal agency which is empowered to give permission for commercial shootings in the coastal state.
Several film and TV serial makers from Mumbai and Chennai recently shifted their shootings to Goa in the wake of the surge in COVID-19 cases in their respective places.
Goemkarponn Expose
Following information from the locals, Goemkarponn team visited a Hotel in Anjuna, Vagator named Hotel AHANA.
When the crew members took the videos of the shoot, the team was threatened by the bouncers of the film production.
Later they also tried to compromise by bribing the team but as Goemkarponn wants to lead by example, the team informed the Police Station,Anjuna.
What followed next was even more shocking, a police constable came on a Activa scooter, went inside the hotel and in 20 minutes he went away, without even meeting the Goemkarponn team.
The team tried to speak to him but he refused.
When contacted Anjuna Police Inspector Suraj Gawas said that he will personally look into the matter.
"This film people have been troubling us. I will take strict action again them now. Please send me visuals if you have," he said.
Thereafter, he sent the Police car Ertiga with some police personnel following which the shooting was stopped.
However, within an hour of police leaving everything started yet again.
A few minutes later, Hotel Ahana owner Tarun Bhattacharya called this reporter and wanted to settle the issue amicably.
ESG Chairman speaks
ESG's Vice Chairman Subhash Faldesai had said He said all permissions granted for film shootings in Goa have now been canceled till the COVID-19 situation in the state comes under control.
"We will not allow any shooting of films or television serials in public or private properties," he said.
All those currently shooting films and serials in Goa have also been asked to wind up their schedules, Faldesai said.
Faldesai said the state government has enforced strict curbs, including imposition of Section 144 of CrPC, which bans assembly of five or more people at one place, due to which shootings cannot be permitted.
The ESG will review its decision only after the COVID-19 situation is under control, he said.
Comment