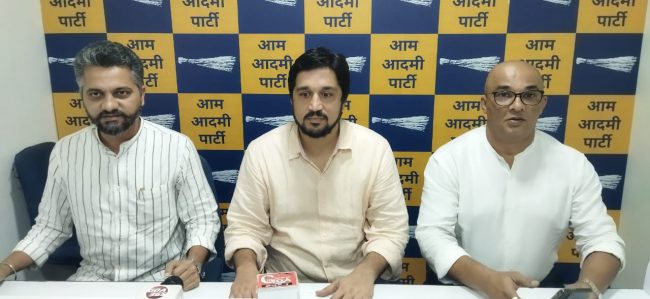 Goemkrponn desk
PANAJI: Aam Aadmi Party Vice President Adv Surel Tilve on Tuesday stated that the recent "rumoured" defection drama is another proof that the Congress is the BJP's B-team.
Taking a shot at former Goa Congress Chief Girish Chodankar's claim that Congress party MLAs were offered Rs 40 crore to join the BJP, Tilve questioned why Congress had not taken any action against the BJP?
AAP Vice President Valmiki Naik said that the defection is currently delayed because national leaders and local leaders are negotiating for the biggest piece of the pie.
Naik said, "Even though assembly session has already begun, the Congress has failed to choose an opposition leader. This is the most shameful episode in the history of Goa's politics".
Naik further said, "The assembly session was a timely opportunity to discuss problems of the common people and to criticise the BJP government for their failure as a united opposition. Sadly, the biggest opposition party is busy with its selfish agenda, ignoring the people's issues".
AAP Vice President Sandesh Telekar said Margao MLA and Congress Senior Leader Digambar Kamat should come forward and clear the air about whether or not he was involved in a conspiracy game alleged by his own party.
Comment