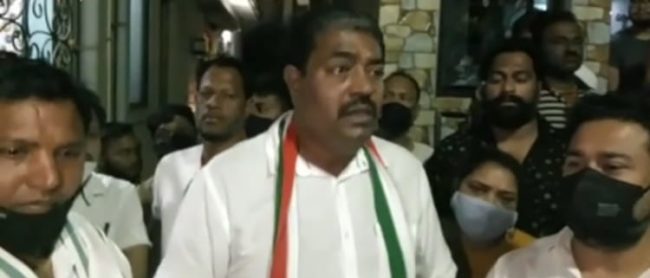 Goemkarponn desk
VASCO: All India Congress youth president Srinivas B.V raised question over a BJP's slogan "Beti Padhao, Beti Bajao from whom? BJP MLAs?". Srinivas claimed that the double engine government of BJP failed miserably and people needs a change which the Congress party can offer.
During the door to door election campaigning of Mormugao Congress candidate Sankalp Amonkar, All India Congress party youth president Srinivas B.V. took a jibe at the BJP party raising question that the slogan Beti Padhao Beti Bajao is from whom, is it from the BJP MLAs?. Srinivas was assumed to be indirectly referring to the alleged sex scandal in which the former BJP minister Milind Naik's name has been linked.
He further alleged that the Law and Order in the state has been not so good and there are chronic problems such as unemployment, inflation, women safety in the state which is the result of the mismanagement by BJP's double engine government.
He further said that people are observing why the three linear projects were brought in Goa and whom are going to benefit from it.
"Prime minister Narendra Modi during his visit to Goa had promised special funds, jobs to the Goans which have not been fulfilled till date. All false promises are being given by the BJP. People are now craving for the change and they should vote for Congress this time," he said.
Srinivas also alleged that BJP has brought political parties like TMC, AAP in Goa to split the Congress votes. But people are wise and they will vote for the Congress candidate like Sankalp Amonkar this time considering his struggle and fight he has put up against several illegalities and unresolved issues.
Sankalp Amonkar, Goa Pradesh Congress Committee Vice president also said that he has been getting good response during his door to door election campaigning. "People have been asking for the change and looking at their reactions I am confident that this time they will vote for me and elect me," he said.
Later, during his campaign, Goa Forward party supremo Vijay Sardesai also joined Sankalp Amonkar and took blessings in the Laxminarayan temple. Sardesai also told reporters that this time people will vote for the change and with the blessings God people are giving good feedback to them.
Comment