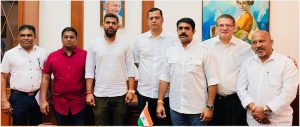 Goemkarponn desk
PANAJI: Claiming that it is a black day in the history of Goa, the United Opposition today hit back at the Goa Legislative Assembly Speaker, stating that he has failed to protect the rights of the MLAs.
Minutes after Speaker refused to meet the opposition MLAs, Leader of Opposition Yuri Alemao announced to call on Governor PS Sreedharan Pillai to demand his intervention.
"It is a completely black day for Goa. Today the Goa Speaker has failed to protect the rights for the MLAs," said Alemao.
He further said that the Speaker first gave them the appointment but now he is not ready to meet them.
Fatorda MLA Vijai Sardesai alleged that Speaker is only taking his party stand.
"As said by Speaker, the government decides the length of the session; the speaker can add the private member day," Vijai said.
Vijai also said that he is ready to apologise to the Speaker unless the session is extended to 15 days.
Sardesai said that in the history of the Goa Assembly, this is for the first time that Private Members Day is cut-off from the session.
"This decision is unprecedented in democracy. The government is basically scared of opposition," he said.
Sardesai recalled that even the monsoon session held in July was curtailed to 10 days from 25 days.
Comment