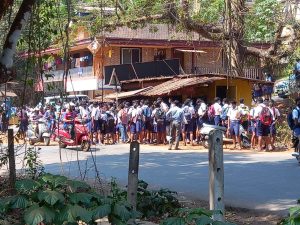 Goemkarponn desk
PONDA: Curti-Khandepar locals alleged that the Construction of the Bus Shed for students was delayed at OPA Khandepar Junction as Government authorities and the Panchayat body were involved in a blame game.
As Confusion prevails between PWD and Panchayat over removing illegal gaddas, the construction of the Bus Shed for students is delayed at OPA Khandepar Junction.
The parents are worried for the lives of students as students are forced to stand on the road at OPA Junction.
The Locals had demanded that Panchayat and PWD convey a joint meeting and find out a solution for the construction of the shed. The locals alleged that two gaddas are constructed by encroaching on PWD land while Panchayat has given permission for them to conduct business. The locals demanded that these issues should sort out at the earliest to construct a bus shed for students at OPA junction.
According to information by locals, in 2021, PWD issued a notice to village panchayat Curti-Khandepar asking whether the panchayat issued any trade license to the two kiosks or not, upon which panchayat replied that they had not issued any trade license to them and since the acquired land belongs to PWD let PWD take action.
But RTI documents reveal that a trade license was issued in 2019 on govt acquired land by the village Panchayat Curti Khandepar.
Now dy collector has given direction to PWD asking them for demarcation of the land and remove the kiosk if they fall within the acquired land of PWD, and direction also been given to the panchayat to take action independently as per the Panchayat Raj Act again
But instead of taking action panchayat passed a resolution asking PWD for demarcation of the land, whereas the panchayat had issued a trade license on govt acquired land, which needs to be revoked at the earliest, taking into consideration the safety of the students
Residents of Khandepar, along with the PTA association, already made a letter to panchayat in 2019 asking for a bus shed for student children as the place is accident prone and even students injured in accidents.
Comment