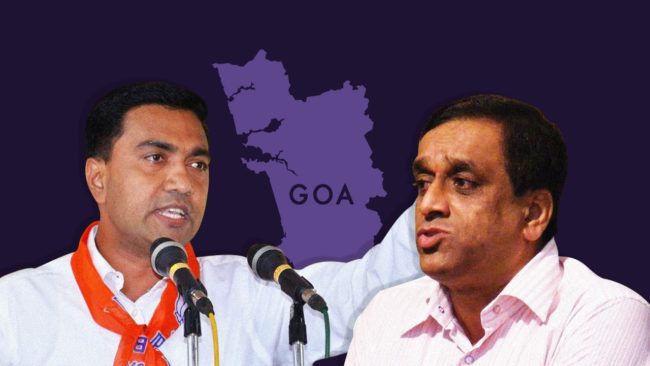 Goemkarponn desk
PONDA: Even after ruling Goa for 10 years, the BJP in Goa seems to be still crying in the name of Congress for its failures on various issues.
The State government has failed to provide proper connectivity in these pandemic times. The rural students have been the major victims of these network failures.
But instead of blaming his officers and IT department, teh Chief Minister is accusing the Government, which was in existence 10 years ago.
Speaking at Dharbandora on the connectivity issue, Chief Minister Pramod Sawant blamed Digambar Kamat and Dayanand Narvekar for their failure to provide hot-spots.
"Former Chief Minister Digambar Kamat and former IT Minister Dayanand Narvekar's lack of vision to build two thousand hot spots," he said.
He said there was a proposal of Rs 450 crore to create infrastructure for connectivity hot spots, but only Rs 250 crore were spent creating 450 hot spots.
He criticised MGP leader Sudin Dhavlikar, stating that he staged an agitation at Azad Maidan on the connectivity issue. Still, he failed to think about it when he was in the cabinet. "Instead, he worked for his own interest," he said.
It is easy to talk when you are not in the cabinet," said CM.
CM slams Sudin on the water issue…
Taking note of Sudin Dhavalikar's statement on water, Chief Minister Pramod Sawant, while speaking at a programme at Dharbandora, criticised former PWD Minister Sudin Dhavlikar for taking credit for the free water scheme by Government.
"He has a habit of taking credit for our good works," said Chief Minister. He further Questioned Sudin Dhavlikar if it was his decision then why he failed to provide free water to Goans.
"He was PWD Minister for past 20 years, who had stopped him from doing it," asked CM.
CM appreciated PWD Minister Deepak Pauskar for planning a free water scheme and said he is proud to provide free water to the people of Goa.
It may be recalled that recently after Aam Aadmi Party had announced free electricity, the Chief Minister had announced 16000-litre free water to Goans.
Sudin Dhavlikar welcomed the free water proposal the next day after 16000 litres of free water was announced by the Chief Minister on 15 August.
However, Sudin had claimed that he had moved the file to provide free water to the needy when he was PWD Minister in 2016 for judicious water use.
However, he added, it could not be realised due to some circumstances when Parrikar became CM in 2017.
Sudin had said he even advised CM Sawant that the scheme should continue.
Comment