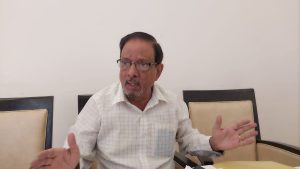 Goemkarponn desk
VASCO: Velsao based social worker and property developer Roquezinho D'Souza on Wednesday morning said that the much debated Cortalim church land grab issue was politically motivated, especially by the Congress, to communally divide and misguide the people.
D'Souza addressing the media in Vasco said that a person was using a fake ID to tarnish his name by calling him a BJP Dalal and a land grabber.
"This Cortalim church land grab is a political issue to communally misguide people; the church can inform the Bishop and appoint a surveyor and demarcate their property to find out the exact details whether the church property has been fully or partially land-grabbed or if there is any encroachment. The houses shown in the videos as houses on Church property on social media are on my property," he said.
he added, "I am willing to compensate the church in case anyone proves that I have encroached on Church property because someone has put a fake post calling me BJP Dalal eating church property," said D'Souza.
D'Souza clarified that the property adjacent to the Church property was developed by him in 2007, and he sold it to poor people by a legal sale deed registered with the sub-registrar.
"The property belonging to me was developed in 2007, and no one had any complaints, and in fact, we have had cordial relations with the church. There have been many parish priests of the Cortalim church, but no one had any issues till this issue came up after 15 long years of claiming that the Church property had been grabbed," he stated.
D'Souza said the parish priest even called a meeting of the parishioners and claimed that he has sent correspondence letters to many departments, but no one has acted. In the first place, no one can act on letters in case there is no supporting evidence, and the priest must attach his land ownership documents and other details as proof, or they can approach the court to raise this property dispute.
The church property is very much intact, and none of this property is either grabbed or encroached. An area of around 20,000 sq meters is not a small piece which can be land grabbed overnight.
"I want to ask the priest if he has informed the Bishop that the church property has been encroached on or land grabbed. I am catholic myself, and we are sentimental to the church, and people have been questioning my reputation in this issue because some Cortalim-based politician has made this their political agenda," he said.
Comment