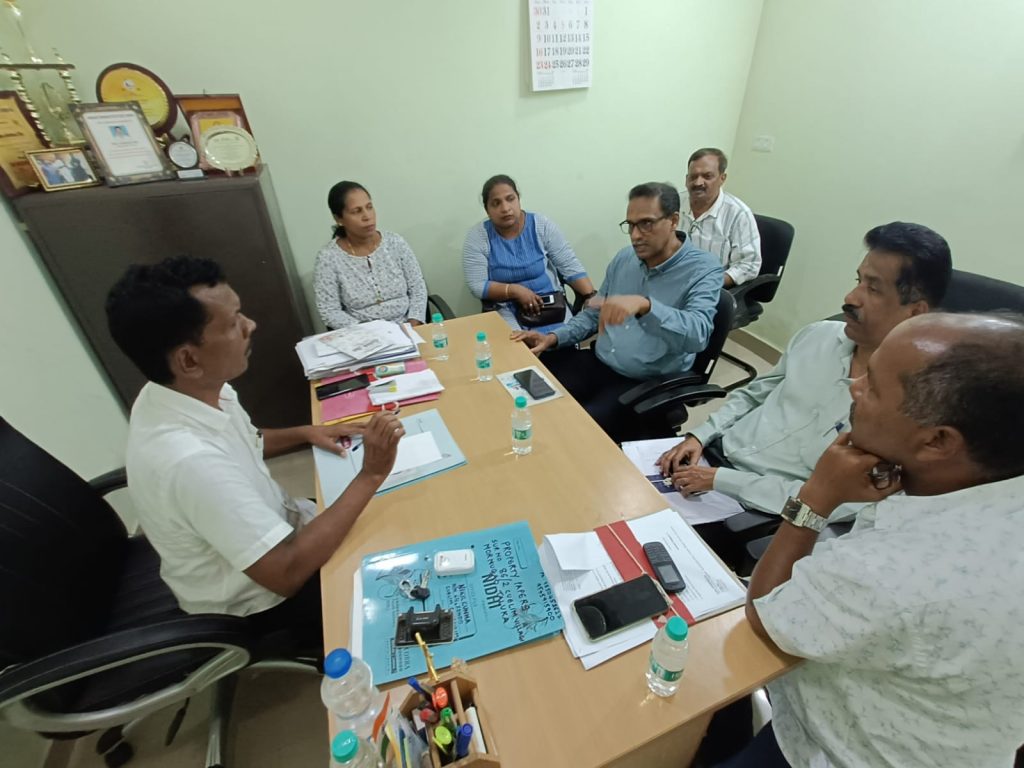 Goemkarponn desk
CORTALIM: Cortalim MLA Anton Vas on Thursday convened a meeting with PWD authorities to take up the issue of water supply in the Constituency.
Cortalim's newly elected ZP, Marciana Vas, and Cortalim Sarpanch Senia Periera were present in the meeting attended by PWD engineers.
Speaking to reporters after the meeting, Anton Vas informed that new water storage tanks would be constructed for storing water, and a non-functional tank would also be activated as a storage point.
Vas also said that new pipelines would be laid for good pressure for the water supply in the area.
"We are trying to request land of approximately 1000 sq meters from Quelosssim and Cortalim communidade to build three new water storage tanks. Some houses on the hillocks are facing water pressure issues, and we will try and resolve water supply issues. We have an old non-functional water tank at Sotrant, and we have requested the PWD to activate this tank to temporarily solve water supply issues. We are also planning to replace the old pipeline, and the project is pending financial approval. I will meet the CM and get the project cleared immediately," said Vas.
Meanwhile, Cortalim Sarpanch Senia Periera said that Cortalim Panchayat will soon demand a water availability certificate from the PWD department before issuing a license for multi-dwelling construction activity.
"Our MLA has already personally inspected tanks before calling PWD officers, and we have now asked the PWD to give the status of the pending proposal so that our MLA Anton Vav can follow up with the CM, Dr Pramod Sawant and get the proposal passed. Some PWD officers saying that they are getting less water from the WRD department, and we have decided to have a joint meeting with WRD, PWD and officers from Seraulim to check why less than 50 per cent water of our requirements is being sent to Cortalim," said Periera.
"PWD has requested us to ask for a water availability certificate from the PWD department before issuing a license for Multi-dwelling construction, and we will implement this before issuing occupancy after checking if the water supply would be affected to others if the multi-dwelling construction is allowed," said Periera.
"Sometimes there is an issue with a pipeline of a single house, but people misguide that the entire village is affected and this must not happen. The PWD has now requested us to take complain about the people of water supply, and they will personally visit the houses to check for the issue, and we request people having water supply issue arrive to the MLA office or Panchayat office so that we can send it to the PWD and their officers will personally come to the houses to check for the issue and resolve it then and there if possible" said Pereira.
Comment