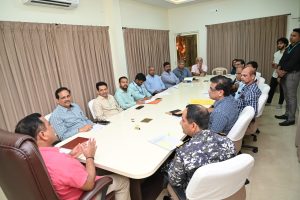 Goemkarponn desk
VASCO: Transport Minister Mauvin Godinho on Friday evening convened a joint meeting with South Goa Hoteliers in the presence of various departments like Navy, RTO, Goa Airport, Kadamba and others. Godinho, briefing media about Dabolim Airport and associated issues, said that the Goa airport was here to stay and the traffic at the Goa airport had increased.
"We are having a joint meeting with South Goa Hoteliers association, TTAG president Nilesh Shah, Goa Airport, Navy, Transport department, Kadamba, Chicalim Panchayat and other departments to prepare ourselves at G 20 meeting. Dabolim airport has served us for a long time, and a huge amount of money is spent, and hence we want to see how things can improve further," he aaid.
Godinho said the old terminal is being developed and will be ready by September, and this sends a powerful message that Dabolim Airport will continue to serve the people in a better way. Tour operators plan well for the tourist season, and South Goa Hoteliers are here to be in the know of the things happening at Dabolim.
"Everyone is more than convinced because the Navy has gone out of the way to accomodate more civilian flights so that more landing and departures can happen at Dabolim Airport, and the statistics show that the Dabolim airport has handled more flights than expected," said Godinho.
"We are looking at every aspect of Dabolim Airport, including parking, transport, and enforcement against illegal taxis and touts so that people feel more comfortable travelling from Dabolim, and Dabolim is here to stay," he added.
The South Goa Hoteliers will undertake the beautification along the airport and outside the airport. The new bridge is coming up, and a new parking facility is also coming up, and this shows that Dabolim airport is being built further, and we are having two aero bridges and 32 new additional check-in counters at Dabolim Airport, said Godinho
" For the sake of Goa, its economy and tourism, the footfall should increase, and there should be a good combination of synergies between the two airports of Mopa and Dabolim, and Dabolim will continue to play an important and awesome role as it always did, and Dabolim is here to stay," said Godinho.
Commodore Ashish Bhargava of the Navy said that there was a request for additional traffic in the last few days
"Over the last month and the next month, we are likely to have an additional increase in air traffic. As far as landing slots are concerned, we have offered as many as 340 places the airlines cannot match up, and there is no shortage of places. Right now, we have around 150 vacant spaces that the airlines can use, and we have upgraded our airport so that aircraft can land in poor visibility during monsoons as well." said Bhargav.
Goa Airport director Dhanamjaya Rao said that there was no reduction in flights at Dabolim Airport
"Summer schedule is already filed where in we are having on an average around 87 flights per day and statistics show that from 5th January to 11th January, we have handled 90 and above flights on an average per day and some days we have crossed 100 flights. There is no question of reducing traffic, and some aircrafts are asking for additional slots, and we are also pursuing airlines to come to Dabolim. We are also taking up beautification of the airport and improvement of parking to remove the congestion. The multi-purpose parking facility will come up soon, and we have also developed another parking facility as well. We have informed the police to look into illegal parking of cars at the Airport," said Rao.
Comment