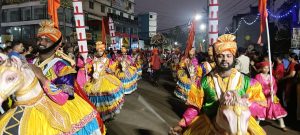 Goemkarponn desk
PONDA: The deadline of 10 pm to wind up the Shigmo Parade was impossible, and the Parade went through Ponda City till late at night.
Children, youngsters and the elderly enjoyed the Parade. The Parade was expected to start at 4 pm. It also began late evening. However, thousands of people flocked to Ponda City to watch the Shigmo Parade, which continued late at night. The Parade commenced from Tisk Ponda.
The artist comprising fancy dress, folk dance, and Romatamel, depicted the rich traditional Shigmo Culture dancing to the tune of Dhol and beating drums.
The floats depicted the scenes on mythological stories, which people of all age groups enjoyed, including children and elders.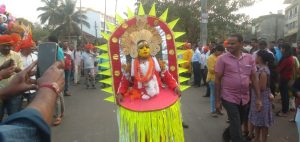 Agriculture Minister Ravi Naik inaugurated the Parade breaking coconut at Mahadev Ghumati at Tisk Ponda. Present were Art and Culture Minister Govind Gaude, RS MP Vinay Tendulkar, and former MP Adv. Narendra Savoikar were present.
Altogether, 20 floats took part, while 9 romatamel, besides folk dance and several fancy dress participants, took part in Parade.
Sitting arrangement

Growing demand from the public to arrange some chairs. According to people, the government spent a lot of money, and thousands gathered to watch Shigmo Parade, for which at least some chairs and water bottles were needed in the rising temperatures.
The Parade lasts six to seven hours, and everyone at least stands for four to five hours till night, especially for floats.
The locals suggested that organisers provide some chairs along the Shigmo float parade so that parents can sit with their children and some elderly can sit with complimentary water bottles.
Comment