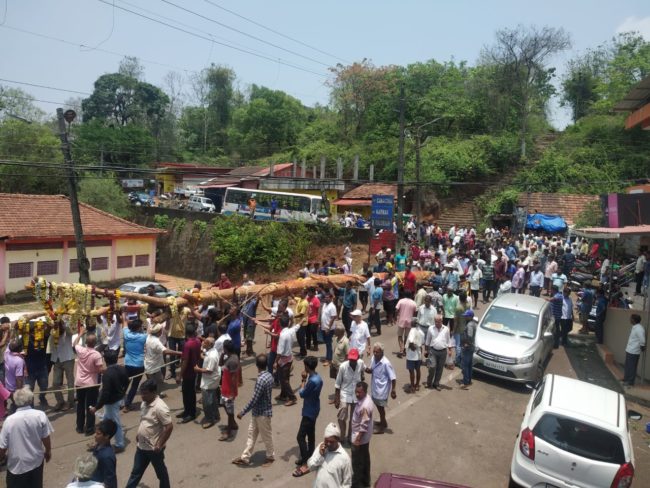 Goemkarponn desk
CANACONA – A large number of devotees pulled on a a large 45-feet Wooden Pole (Betal Ratacho Khambo) to prepare for its Triannial (once in three years) Ghodeanchi Zatra at Shri Betal Temple Poinguinim.
Actually, a contingent of over a thousand people pulled the Wooden Pole (decorated and garlanded with flowers) cut from a forest in Shellim (Loliem-Polem village) along the NH-66 road via Poinguinim Bazaar, amidst spiritual chants, before fixing it at the Shri Betal temple premises as preparation for Triannial Ghodeanchi Zatra to be held on 21st May.
President of Shri Betal Devalaya Samiti Udhay Prabhugaongkar informed us the once in three years celebrated Ghodeanchi Zatra could not be held for the last two years due to Covid restrictions, and this year will be celebrated on 21st May at Shri Betal Temple, at 4 pm.
However, the rituals will begin on 8th May and will culminate in the Ghodeanchi Zatra on 21st May. Normally, two wooden poles are used to conduct the Ghodeanchi Zatra held every three years; however, as one Wooden Pole lasts for 3 years, the worn-out pole is compulsorily changed/replaced by a new one.'
'This year, after our requirement was duly informed to the forest department, who promptly issued the necessary licence, we got the tree cut from Shellim (Loliem-Polem), and today brought the 45- Feet long pole to the temple premises. It was a devotional pious ceremony people participate with much of religious fervour', Prabhugaongkar informed before inviting all for the Triennial event on 21st May.
According to sources, not only people from all over the State but devotees across the border participate in the Triennial Ghodeanchi Zatra, last time held in 2017.
The wooden poles are mostly cut from the trees of Species of Otamb or Khodgus..
Comment