Dy Collector directs kiosk owners to clear encroachment at OPA junction
The order clears the way for constructing a Bus shed for the safety of school children at OPA –Khandepar Junction.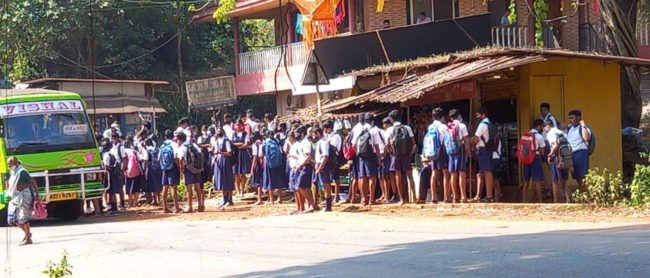 Goemkarponn desk
PONDA: Khandepar Villagers welcomed the Ponda deputy collector order, which directed two kiosk owners at dangerous OPA-Khandepar Junction to clear their two illegal kiosks in a month.
This order had cleared the hurdle in constructing the bus shed at OPA-Khandepar Junction following a complaint by Khandepar villagers.
The locals had complained that the OPA-Khandepar junction had become dangerous as there was no bus shed for passengers, especially for hundreds of school children who were risking their lives at the roadside while waiting for the bus after school hours.
The Khandepar villagers, including social activist Sandeep Parkar, welcomed Deputy Collector's order to clear encroachment at OPA Khandepar Junction, posing a risk to life and property.
The illegal Kiosk was a hurdle in constructing the bus shed for the last several years.
The Junction on the slope was inviting accidents. Recently one truck rammed into a hotel damaging it badly, while one car had injured one student.
It may be recalled that Khandepar locals had filed a complaint alleging that two kiosks encroached on land acquired by PWD at OPA-Khandepar Junction, especially for the bus shed.
The OPA Khandepar narrow Junction is on the Belgaum-Ponda-Panjim Highway, and a busy junction with several Highway vehicles proceeds from Junction as the new Khandepar Bridge is without an approach road towards Ponda.
The bus shed land grabbed by Kiosk forced school children/passengers to stand dangerously at the roadside while waiting for the bus.
Sandeep Pakar, the complainant, said Deputy Collector Ponda asked both Kiosk owners to remove their illegal encroachment in one month.
Since OPA Junction is located on a slope, it invites several accidents, and therefore, Bus Shed is essential from a safety point of view.
Comment