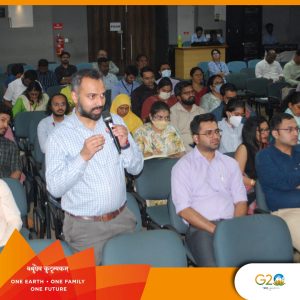 Goemkarponn desk
PANAJI: With only a few weeks left for the first meeting of the G20 Summit to be held next month in April, the training for G20 Liaison Officers was held in Panjim on March 28. This comes days after the delegation from New Delhi for G20 reviewed the summit preparations in Goa.
The training on Tuesday was attended by Liaison Officers (LO) who will be the main point of contact for international delegates visiting the state for the summit. The training began with an introduction by Bhushan Savaikar, OSD Infra & Co-ordination G20 followed by a Question and Answer session on the upcoming HWG Meeting in April. Facilitated by Govind Jaiswal, Director, IC/IH, MoHFW, during the course of the training, the LOs were briefed about their roles and responsibilities.
It was an interactive session where the participants were encouraged to ask questions pertaining to the upcoming event. The LOs will cater to the requirements of respective delegates and facilitate a smooth flow of events. Briefing and training concerning health, security, excursions, accommodation, and other queries were discussed in detail at this training that took place at Sankruti Bhavan. The LOs will play a crucial part in facilitating bilateral discussions among the participating nations.
Gavin Dias, OSD Hospitality G20 pointed out the works currently underway ahead of the summit are all efforts from the government to reduce the carbon footprint in the state. Sanjit Rodrigues, Secretary Protocol & Nodal Officer – G20, Goa State addressed the participants and reviewed the progress of the LO training. Venkatesan Dhattareyan, Regional Director (West & Central Region) MOT, and Anthony D'Souza, Additional Secretary G20 also shared their views during the training session. Deepak Narvekar – OSD Branding proposed the vote of thanks.
Comment