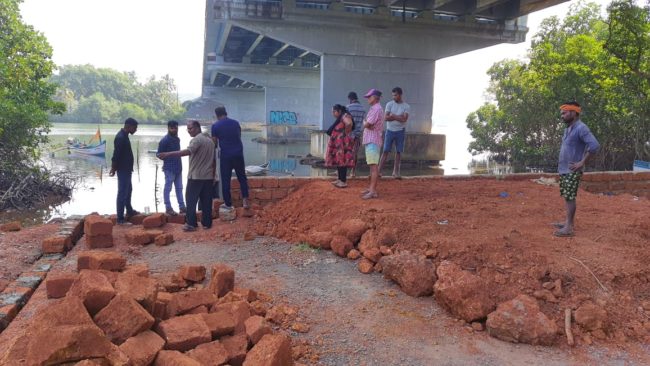 Goemkarponn desk
CANANCONA: Galgibag locals were furious over the unplanned and downgraded work undertaken at the Galgibag jetty recently. The annoyed locals objected and stopped the ongoing work, demanding that the work quality be of good quality and sustained for at least 50 years.
Locals from the Galgibag area claimed that ongoing work near the jetty in progress is unplanned and sans any quality of work.
The locals present at the site reportedly halted the ongoing work claiming the poor quality of work.
Residents have demanded that they want good quality work at the jetty ramp, which will last for at least 50 years. They blamed PWD for merely giving lip service and not performing well.
The ongoing work at the jetty is being done by PWD in association with the MVR contractor who has built three bridges from Canacona and has started showing damages within two years from its inauguration.
Later, speaking to the reporter, local resident Seby Barretto informed that the works are carried out so low quality that it's not worthy of having such work, without the use of any rubble, they had lined up bricks; how will it survive salinity, within two years crabs will make large holes which will loosen it, and it will collapse.
Barretto also bagged to refer to the jetty beautification works on the other side at Maxem, their panch and Loliem-Polem panchayat has got the jetty so well and even beautified the area'.
"Whereas here they are creating a joke of the works. I don't know why such sub-standard works are allowed in the first place. Some people beat their chests to get these works approved; if such works are done, it would be better if they didn't do the works at all. They have filled it with soil/mud; how will it stay?. Is this development?" Barretto asked.
On the other hand, stating something is better than nothing, Prakash Naik, who is used to operating a Tar from Galgibag mentioned that ' we used to operate Tar here, but since this bridge became a reality, this jetty remained neglected and in doldrums for too long even though, people have demanded restoration of this jetty, we have been requesting PWD and Contractor MVR to do something here.
They, however, claimed there's no provision in government tender but agreed to do something on their own.
"As per our requests and also persuasion from our MLA, they have started to carry out jetty building works. We have told them to do something best possible, as, without this, the area has become bad, children play around here, so fishing boats use this jetty. Besides this, during Chaturthi, Idols immersion takes place here, and they agreed to carry out the works in the best possible manner," they said.
Another resident, however, said our demands are that works should be executed with proper care on foundations and concreting, just the way it has been carried out on Maxem side. The developments should be of quality, and they should remain at least for the next 50 years.
Comment