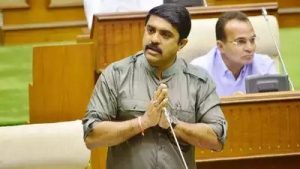 Goemkarponn desk
PANAJI: Goa Forward Chief Vijai Sardesai has written to WRD Minister Subhash Shirodkar demanding an urgent meeting of the House Committee on Mhadei and summoning of Goa Chief Minister Pramod Sawant in the light of Union Home Minister Amit Shah's public statement in Belagavi.
"Amit Shah's latest revelation has confirmed what Goans knew all along: A foul play by Chief Minister Pramod Sawant and his government on this matter that has led to the meek surrender of our rights over Mhadei to Karnataka and the loss of the river for Goa forever," said Sardesai.
He further said that Minister Amit Shah has placed on record, not only as the Union Home Minister but also as a very senior leader of the Bharatiya Janata Party, that his party's Chief Minister of Goa, Pramod Sawant endorsed, approved and perhaps even advocated, the diversion of Mhadei waters for Karnataka's farmers at the cost of Goa's drinking water needs.
"Till now Chief Minister Pramod Sawant has neither disputed Amit Shah's words nor has issued any statement clarifying his role in what Goans see as a cruel betrayal of Goa and her people,' he added.
Vijai further said that he has been maintaining all along that he's fighting the Union government and his party on behalf of Goa, and the DPR approval was a unilateral decision taken without his knowledge.
"I wrote the Chairman to immediately convene the House Committee on Mhadei and direct
Pramod Sawant to appear. Any attempt to stall or delay will damage its purpose and credibility, confirming people's fears that this is an eyewash meant to fool them,' he added.
Comment