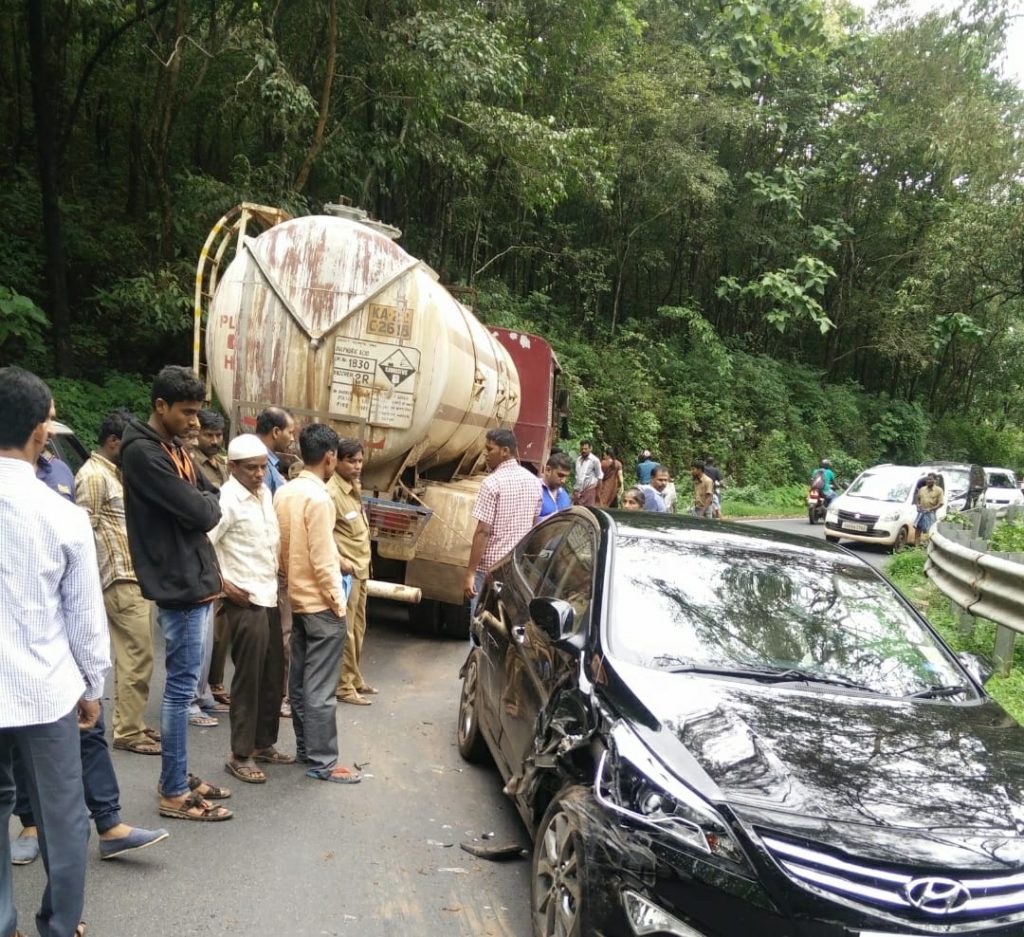 Goemkarponn desk
CANACONA: Coming hard on Union Minister for Road Transport and Highways Nitin Gadkari, NGO Goenkar (who has taken the government in NGT over the felling of thousands of Trees at Karmalghat) questioned the minister's logic for Citing the 'Expensive' reasoning to deny a tunnel at Karmalghat section of NH-66 road widening.
"The costs of Tunnel though time-consuming will be certainly much less than the cost will be paid by causing destruction of Environment and Wildlife. Unfortunately, Union Minister is on record to say that funds for developmental works are never a problem, and it is not understood why the minister is now talking on these lines to deny not only a justified but a technically feasible Tunnel at Karmalghat," NGO Goenkar president Jack Fernandes.
NGO Goenkar General Secretary Vikas Bhagat said, "First of all, our congratulations to our MLA and GLA speaker Ramesh Tawadkar for continually following the NH 66 matter from Gulem to Cuncolim wherein in between that highway a Karmalghat comes in".
"Our NGO filed a PIL in High Court for a tunnel instead of road widening, and the reason behind this is to save our environment and its ecology. The government gave an affidavit to the court that no such measures or decisions (Felling of trees) have been taken as yet. Court heard our prayer and passed an order stating that before any work is started in the Karmalghat section, the government should give a clear road map to us (as petitioners). We haven't received anything as yet", said Bhagat
he said that yesterday they saw a video conference between our MLA/GLA Speaker Ramesh Tawadkar and union Minister of road and transport Nitin Gadkariji, saying that it's too expensive to build a tunnel in the Karmalghat section.
"Our NGO is not happy with the reply of the Union Minister stating that the Tunnel is expensive. Still, our demand will be the same to build a tunnel as we are unwilling to allow the destruction of our Karmalghat, which is part of Western ghats. We are also ready to move to Court in NGT in case the government wants to go ahead and destroy our ecology just because of Costs/expenses, causing long-term destruction of environment and wildlife," he said.
He added, "We will be paying and suffering with irreparable costs and expenses more than anything else( costs to construct a tunnel) by way of destroying environment and ecology."
"We won't oppose highway because we want an improved highway but not the cost of destruction of our environment and our Karmalghat'," said Fernandes.
Sandesh Telekar, another activist of NGO Goenkar, R V Associate, Architect Engineers and Consultant Pvt Ltd who gave a feasibility report of the Patradevi to Polem NH-66, has recommended a Tunnel of 1.45 km at Karmalghat…..
"Recommending a Tunnel instead of Widening of the road with 4 lane construction, the consultants have clearly weighed the negative aspects of constructing a 4-lanes road at Karmalghat. As for stability issues, it would not be possible to cut the hill to the required slope since that would disturb the road on the hillside, but said 'construction of viaduct and Tunnel may not involve any stability related concerns", he said.
He said for road widening Breast walls,
Soil nails will be required to ensure slope, whereas Viaduct Structure earth retaining structures and Tunnel. Road widening will involve disturbing Hill Slopes in the forest, whereas insignificant disturbance to the environment during construction time. 11.7 hectares of land to construct a 4-lane road will be disturbed on the hill, and revegetation of forest cover will not be possible as entire lanes will be on a hill, whereas after the construction of the Tunnel, the vegetation in 13.5 hectares of forest cover will be reinstated over the tunnel length of 1.45 km. Road widening will leave the Existing alignment Substandard Curves as it is, while in the Tunnel, Sharp Sub-standard Curves will be improved. 4-Lane construction time will be less, but Tunnel construction will be time-consuming. Inspite of Road-widening or 4-Lanes, Speed limits will be 30-40 Kmph, whereas 100speed can be permitted in a Tunnel, the feasibility report says.
Comment