HAR GHAR JAL?? Caurem-Pirla struggles for every drop of water
PEOPLE"s WOES…
"In our village, we don't get continuous water, but the water which comes for 2 hours is also irregular. If we get water for a day, then there is no water supply for the next two to three days, which is the sad reality of this village. We have to face a lot of problems due to scarcity of water, In some places, there is water, but we need to travel for long distances to fetch water."
Sarvada Faldesai,
Caurem-Pirla villager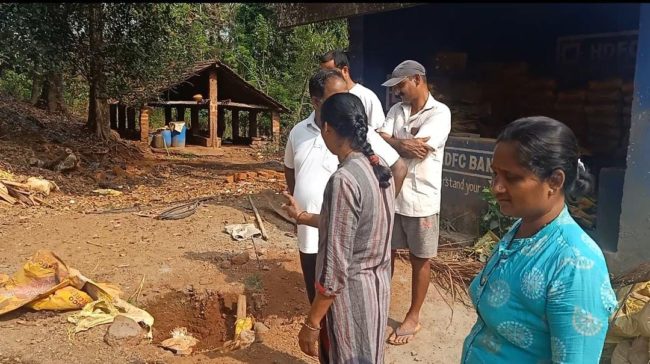 Goemkarponn desk
QUEPEM: Acute water shortage issue continues to affect the villagers of Caurem-Pirla. The PWD water supply section has totally failed to solve this issue for many years now.
For many years there has been an issue regarding acute water scarcity in Caurem Pirla village.
A local woman from Pirla, Sarvada Faldesai, said that they are always facing water scarcity in the Caurem-Pirla panchayat area.
"In our village, we don't get continuous water, but the water which comes for 2 hours is also irregular," she said.
She added, "If we get water for a day, then there is no water supply for the next two to three days, which is the sad reality of this village. We have to face a lot of problems due to scarcity of water, In some places, there is water, but we need to travel for long distances to fetch water."
Another local, Mangesh Devidas, said that the major issues in our village are an improper supply of water, electricity and bad roads.
"For many years, we people have been going through this bad phase," he said.
Devidas said many MLAs came; they only gave promises which are yet to be materialised.
He stated that some PWD water supply work has been ongoing for the last three months but is still incomplete, which is dangerous to the commuters because it touches the road.
Gopal Faldesai, another villager from Pirla, said we are always facing scarcity of water supply even the Seraulim dam is very much near to this village, this water has still not reached our village.
"The water we get these days is from a local river, and that is not purified water. We have to drink dirty and muddy water. If the water pipeline gets damaged, there is no one to shoulder the responsibility or repair it. Sometimes department workers say that they don't have the material to work and do repairs," Faldesai added.
When contacted, Cauverm-Pirla panchayat Sarpanch Samiksha Gaokar said that the panchayat's major issue is a scarcity of water supply and electricity, and for the last few days,,, there has been a continuous issue with electricity.
"There is no proper power supply, especially at night time and in our village, there is no service from the electricity department after 10. The failure in electricity leads to water problems because the water pump used to supply water in the village depends on electricity," she said.
When asked what role panchayat played to resolve this issue, she said many letters were written, and meetings with respective departments were held, but no solution has been found.
Comment