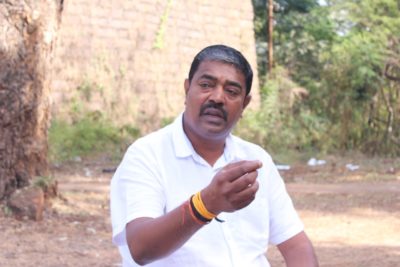 In a tete-a-tete with SURAJ NANDREKAR, Congress' Mormugao candidate SANKALP AMONKAR speaks his heart out. Talks about the sex scandal of Milind Naik, coal pollution and other issues in Mormugao.
Excerpts…
Goemkarponn: Last time, you lost the election with a narrow margin of 136 votes; it must have been shocking defeat?
Sankalp Amonkar (SA): Last time I lost with a narrow margin, I did not take it as a defeat, but I took it positively. Some of my supporters who were present at the counting hall, their morale had gone down. Although I stood very strong and told them that people are with us and have supported us equally. I might have not become MLA legally, but I felt that I was one among the MLAs and because of that, I continued to work in my constituency for the past five years, and there won't be a single person who will complain against me, whoever has come to me seeking help and work. I have stood by my people. As an opposition in Mormugao, whichever issues are there such as the Naftha issue, Nu Shi Nalini vessel, theft of Iron ore, Garbage issue, job scam. I have been raising issues and have made people aware of the MLA's wrongdoings. When there was a CoVID pandemic, our MLA (Milind Naik), a minister at that time, was hiding in his home. On the other hand, my family and I worked among the people and helped them.
Goemkarponn: How much advantage will you get from recent the sex scandal issue against Milind Naik?
SA: The issue which you have asked me about the sex scandal, I have not taken because of the election. But on moral grounds, when a woman has approached me and mentioned that she had been exploited by a Minister and then she has produced evidence before me, then I felt like if a person of such a high position was misusing his power to exploit a woman, then he should be exposed. I went to his party; I told them about this issue and urged them to take action. Their BJP party did not listen to me, which made me expose him (Naik) to make people aware of how he is misusing his position. He was a public servant, and when he was a public representative, your life doesn't remain personal. You (Naik) are giving false promises of giving jobs and helping to set up a business and then exploiting them. I wanted to bring out these things before people. I feel that I have been successful in doing so because Naik had to resign after my one press conference. If I was telling a lie and the issue did not hold any truth, he would have not resigned. But now he is telling the media that Sankalp is a liar.
Goemkarponn: Sankalp, it is being said that this sex scandal issue is an old issue, but you took it out just before the election. Is it true?
SA: No. This issue was in 2019 when that woman had approached me, but at that time, I had told her that until and unless she filed a complaint, I could not help her. When the complaint draft was ready, she told me that before filing a complaint, she would like to discuss it with her family and will come back. After that, she did not come back, I tried contacting her, but after one and a half years, she came to my house and asked for the evidence she had given me. I felt she was under tremendous pressure. I told her that I would give her the evidence later, and I sent her the evidence. I brought this issue before my party, and they felt that such a person needed to be exposed in public. We can see the misuse of power and lakhs of rupees in bank transactions to hide the misdeed. And the rest we all know that there was a counter-complaint against us in Bihar and later came to South Goa Superintendent of Police and from there it came to Mormugao police station and right now it is with the Crime Branch Goa. But the complaint which I gave in the Women Police station, has not been registered.
Goemkarponn: But now that woman alleges that you pressurized her to tell lies? Your view?
SA: Definitely, she is under pressure! I can even say that she has been almost kept under house arrest. But in the form of her video, she came before people. I am not blaming her; she is a woman who needs help. When she was staying in the Mormugao constituency, her husband died in an accident. She was under pressure and concerned about her son and the family's survival. When a minister is involved in this issue with fear, I think she wants this issue to be concluded. My job was to expose the scandal of this minister. Show me where this minister has denied his involvement in this scandal. Why did he resign? Why doesn't he utter a single word on this issue? Recently, when the BJP Mahila morcha claimed that their minister is innocent and clean, the Congress Mahila from Mormugao challenged them to come with the minister and let him testify his innocence before Lord Damodar. Let him say that he did not have any relation with the woman nor forced her to have an abortion, but he did not turn up.
Goemkarponn: If tomorrow, Congress forms the government then will you take action against Milind?
SA: If Congress forms the government or not, and if I become MLA, I won't leave this person for his misdeeds. And I believe he needs to be punished. So, in two days, we will be filing the High Court case and producing all the evidence. I am not fighting a political case, but I am fighting for the truth. In the court of God, you cannot lie.
Goemkarponn: TWill you use the Sex Scandal to your advantage??
SA: I have gone to the people's houses asking for votes stating that I have been defeated twice and people should give me one chance to serve them. Unless I become MLA and work for the people, they will not understand my calibre and capacity. I talk with people about development. A major issue in Mormugao is that we do not have a hospital. In a medical emergency, we have to rush to Chicalim hospital, and from there, we are referred to the Goa Medical College Hospital. There have been several medical cases in which people have lost their lives, so my priority is to build a hospital. The second priority will be the community hall. There is a water supply issue in Mormugao as Sada locals get water supply for one hour; despite having fifteen years MLA and 10 years, Minister Naik could not solve the issue.
Goemkarponn: The major problem of Vasco and surrounding areas is coal pollution from MPT, but many voters of your constituency are employed at the Port. How will you balance this issue?
SA: See. Personally, my stand is that we are not against coal transportation, but we are against pollution. In Mormugao Port, the current minister maintained his monopoly in the MPT. He does the stevedoring, coal transportation, labour handling and supply is done by him. Once upon a time in Mormugao, there were stevedores like Parkott, Machado, ACM, etc. Now only M.N constructions are functioning there. Now in Port, there is Adani, Jindal, two berths here have been privatized, and the 9, 10, and 11 berths are also on the verge of privatization; if it happens and it goes into the hands of private parties, then what will be left in the Mormugao Port? Today in Port, around 1600 people are employed, and around 5000 pensioners are dependent on it. From these 1600 employed people, around 1200 people are from our own constituency. What will be the fate of these people if MPT is privatized? We won't allow it to happen at any cost. This local MLA is not opposing coal pollution because his entire business is taking place in the Port.
Goemkarponn: Pls continue…
SA: These businessmen see their benefit, transporting coal via train wagons. These wagons are overloaded with coal, but if these wagons are filled correctly on level, coal spilling won't happen. The overloading of wagons is done to save transportation costs and earn more profit. If I become MLA, then my stand will be that companies should take care that people are not suffering due to their business and 100 per cent.
Goemkarponn: You are also the vice president of GPCC; everybody knows that there is anti-incumbency against BJP in Goa. How many seats do you feel Congress is going to win this election?
SA: BJP government has been ruling in Goa for the last 10 years, and people had given them an opportunity in 2012, trusting Manohar Parrikar. People are now fed up with BJP. Wherever we go, there are agitations, and the government is not even concerned nor ready to talk to the people about specific issues.
Goemkarponn: How much advantage Congress is going to get from this?
SA: People of Goa has decided to send them (BJP) home because they have cheated the people of Goa. People who have given them the chance to be in power for five years are being denied a party ticket this time, while the person involved in the sex scandal has been given a party ticket. I want to ask the BJP supporters if the BJP's Parrikar was alive, would he allow to give the ticket to this person? People are saying that he (Naik) has been given a party ticket only by taking money. People are annoyed, and I feel they won't even work for the BJP party. People want to teach the BJP party this time and back Congress this election. They will see how Congress will perform once in power, and later they will decide about the future. I am full confidence that Congress will form the government.
Goemkarponn: What will be the effect of Aam Aadmi Party and Trinamool Congress this election?
SA: See, AAP and TMC's effect people will decide. In 2017 AAP damaged Congress, and I am one of them. Last time in Mormugao constituency, Ex MLA contested on AAP and got 260 votes. Here I lost with 138 votes. If the AAP had not been there, those votes would have come to me, and I would have emerged victorious. I feel AAP and TMC are here to damage Congress, but the people of Goa and Mormugao constituency are wise.
Comment