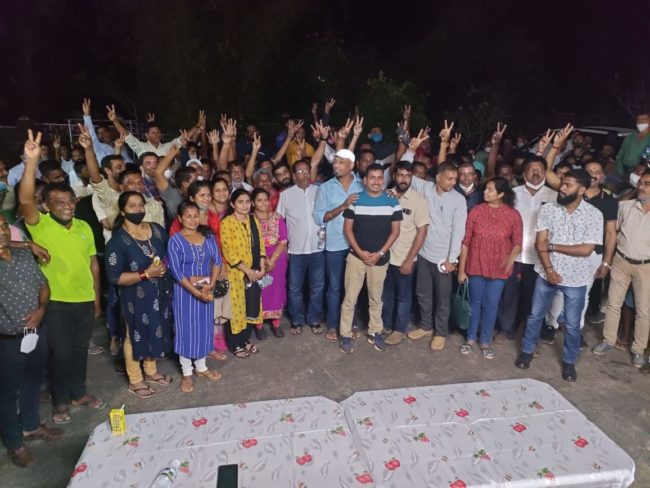 Goemkarponn desk
CANACONA: Call it a show of strength or a strong message to BJP from the horses-mouth, but including Canacona BJP Mandal and BJYM, a ZP member, Five Sarpanch's, Five Councillors and unnumbered present and past Panch's, joined a buoyant Isidore Fernandes who decided to contest as Independently in the elections from Canacona.
It may be recalled that Fernandes had resigned from BJP Party and resigned from membership of Legislative Assembly, the post of Dy Speaker of GLA and GFDC Chairmanship following denial of BJP ticket to contest from Canacona.
After a meeting with supporters and Well-wishers, Isidore announced his Candidature in the forthcoming Assembly Elections as an Independent candidate supported by Canacona's BJP Mandal and Bharatiya Janata Yuva Morcha (BJYM).
BJP's booth Level committees will be the booth leaders of Independent Isidore Fernandes; it is after Canacona BJP Mandal gave a clarion call to BJP High command to change the wrong decision and, if required, conduct a re-survey and re-allocate BJP's Canacona ticket to Isidore Fernandes. '
"We want a BJP MLA in Canacona, but not Ramesh Tawadkar, who had rebelled against the party, contested as independent and helped to defeat BJP's official candidate. Canacona people do not need Tawadkar", Nandadeep Bhagat said.
Responding to a call by Canacona BJP Mandal and BJYM, Five Sarpanch's, Five Councillors and a horde of present and past Sarpanch's/Panch's and prominent supporters, Canacona Ex- MLA and Ex-Dy Speaker Isidore Fernandes announced he's is contesting as a BJP rebel and Independent candidate for the 14th February Assembly Elections from Canacona constituency.
Isidore, during the meeting, said, "I wholeheartedly accept your call, and without considering any of the attempts made by different parties to join them, I announce that I am contesting as your Independent Candidate".
'Yes, I will ask for votes on the two planks of 'Unemployment and Developments' I wish to continue assisting my people of Canacona in providing employment and carrying on with the developmental works. I have started my political career in Canacona as an Independent candidate, and thanks to BJP now coming back to a full circle, I am again contesting as an Independent in Canacona', but stopped short of saying if the 2022 elections will be his last one," he said.
Meanwhile, Canacona Mandal head Nandadeep Bhagat, said 'We want a BJP MLA in Canacona, and people want Isidore Fernandes as Canacona MLA and not Ramesh Tawadkar. I call upon the BJP leadership to reconsider their wrong decision of imposing Tawadkar on us to whom Canacona people do not want and instead change the candidate recommended by the party, which are the wishes of the Canacona people."
He said the mistakes happen, and everyone in Canacona feels High Command faltered;
"Still nothing will be harmed; no C-form is issued by the party. So, the party can still change its faulty decision and instead give BJP ticket to Isidore Fernandes who not only worked for the party but helped the government to comfortably complete its term," he said.
Comment