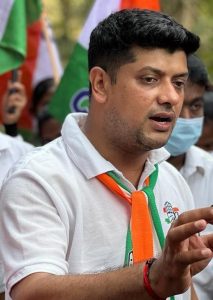 Goemkarponn desk
PANAJI: Goa Pradesh Congress Committee Chief Amit Patkar on Tuesday alleged that institutions like judiciary were under threat in the last nine-year rule of 'Bhrasht Jumla Party'.
Patkar was speaking while commemorating the birth anniversary of former Prime Minister Pandit Jawaharlal Nehru at the Congress Office here.
He said that Pandit Nehru was the architect of modern India, who built the strong foundation of the country.
"Institutions like the judiciary have been under threat in the last nine years under the regime of the Bhrasht Jumla Party. There is a fearful situation in India. Hence we need to think on how we can protect our brotherhood and make progress in our country," he said.
"Even needles were not manufactured in our country. However, Jawaharlal Nehru made progress in the country by bringing industries and institutions. Everyone should take inspiration from him," he said.
Congress MLA Carlos Ferreira said that Jawaharlal Nehru had a vision of education and economics. "He believed in democracy and social empowerment & social justice," he said.
Praising his qualities and the education he had pursued, Carlos said, "He studied in London and was called barrister, which was one of the things that led him to be guided by the right path. Today we need a leader who has an education. It is not merely when you have support of numbers… the quality and distinguishing factor is when you have education and vision. If you have a vision you can lay out a roadmap, which can give quality infrastructure, development and progress for the nation. These were the hallmarks of Pandit Jawaharlal Nehru," he said.
He said that Nehru was a tall leader in foreign relations and highly respected in the international community. "Time has come to instill these good values into the youth of our nation and emulate these values and take our nation forward with positivity and make sure the nation is united and not divided," he said.
Comment