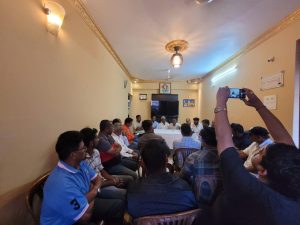 Goemkarponn desk
CANACONA – Different organizations of Canacona joining hands under a common banner of Canacona Railway Stop Bachao Action Committee (CRSBAC) have decided to intensify agitation by holding different types of agitational programs from Friday, the 13th onwards to demanding distance Trains Halts at Canacona KRC Station.
CRSBAC, which consists of the Forum for Senior Citizens of Canacona, has threatened to call for a 'Canacona Bandh' if the government and railway authorities continue to ignore their pleas to resume train halts as existing pre-Covid-19 lockdown in the country.
CRSBAC Coordinator Janardhan S. Bhandari, stating that the long pending demand of the people of Canacona, which is sidelined by the authorities and elected representatives, said the government themselves will be responsible for any untoward incident, particularly any health issues to Senior Citizens that may occur during the agitation.
"If any untoward incident occurs during the agitation or if senior citizens face any health issues during agitation, then only government will be responsible for it," Bhandari said.
According to Bhandari, Swabhimani Jagruth Canaconkars, Senior Citizens of Canacona, Jana-Sena warriors and members of "Vision & Mission… Progressive Canacona" has been continuously fighting for a halt/stop of Long Distance/Express trains at Canacona Railway Station.
CRSBAC Convenor Shantaji Naikgaunkar said, "Senior Citizens of Canacona have made correspondence to all authorities, from top to bottom, to bring this issue to their notice and pleaded to halt long-distance trains at Canacona Railway Station for the convenience of people of Canacona, but they were ignored totally".
It may be recalled that a protest march was led to Canacona Railway Station on December 15, 2022, and a memorandum was submitted to the concerned Railway Authorities to fulfil the demands mentioned in the memorandum, but nothing materialized though a month passed. Various organizations of Canacona again met on January 4, and when enquired with Canacona Railway Station In-charge, were informed that no instructions were received about halting/stopping long distance/Express trains at Canacona Railway Station.
According to Naikgaunkar, the present senior citizens were then at the forefront in the agitation for support of Konkan Railway in Canacona and recipient of police atrocities and had undergone jail than, besides Canconcars, have sacrificed their valuable land at throwaway prices, hoping that people of Canacona would be benefited of the Konkan Railway project, but are sadly dejected with the recent developments.
Even the MP of South Goa, local MLA, the State Government failed to take cognizance of the legitimate demand of Canconkars & didn't take any steps to stop express trains at Canacona Railway Station." Bhandari said.
He further said that now the people of Canacona have realized that elected representatives, the State Government, and the Railway Authorities don't bother about their problems and demand, and now some serious form of agitation is needed to wake up these sluggish authorities.
"Now, therefore, it is collectively decided to start various forms of agitations from January 13, 2023, onwards to fulfil our demand. If the situation demands, we will not hesitate to call for "Canacona Bandh", and at the right moment, as a last resort, we may call for "Canacona Band".
Either fulfil our demand at the earliest; otherwise, be ready to face all types of agitations. If any unwanted incident occurs during any form of agitation organized to fulfil our demand of giving stop/halt to express trains at Canacona and if any physical harm/hurt causes to any senior citizen participating in the agitation, then the government will be solely responsible for all the consequences for the same.
Also present were Anil Bhagat,
Vikas Bhagat, Dhiraj N Gaonkar, Shubam Komarpant, Shyam Desai, Mhalgo Gaonkar, Babesh Borkar, Santosh Gaonkar, Soiru Komarpant , Ulhas Gaonkar, Vaishnav Pednekar, Manesh Naik Gaonkar , Cleston Viegas, Venkatray Naik, Sidharth Gayak, Jess Fernandes
and Others.
Comment