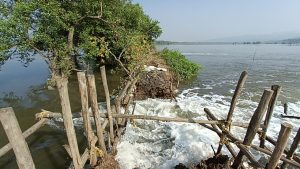 Goemkarponn desk
PONDA: Around 200 Kundaim Farmers demanded the construction of a new Bhandara before monsoon to protect the paddy fields.
They say the Kundaim Bhandara is several centuries old, is weakened in several places, and may collapse at any time.
For the past five years, the Chikhalpaine-Kundaim farmers left their once-fertile agricultural fields fallow due to frequent breaches of Banharas bordering their khazan lands.
After spending most of their savings repairing multiple saline water flooded fields due to the damaged bhandara breaches in July this year, the farming community has noticed that the bundh has yet again been breached in several places, posing a threat to not just their fields, but also to their homes nearby.
Farmers have demanded that the government construct a permanent bhandara in the village, so they can begin cultivation of paddy in their fertile khazan lands.
"The government needs to step in and help us restore the bhandara permanently. Every season, we spend a lot of money on repairs, and we are tired of doing this repeatedly," they said.
"An area of 32 hectares of land has been inundated with saline water. Due to this, the check dams of the neighbouring fields have also developed cracks," said Vijesh Naik, President of the Chikhalpaine Farmers Association.
"If the bhandara is not re-paired before the rains this year, it will collapse completely, and the flooding could be disastrous for our farmlands and homes,
**A tender for the construction of the riverside bundh has already been floated by the Soil Conservation Department, at the cost of Rs 2.4 crore, and it is now in the Chief Minister's office for approval," said Naik, urging the CM to take up the matter immediately, and ensure that the restoration is complete before the rains said, Vijesh Naik.
Comment