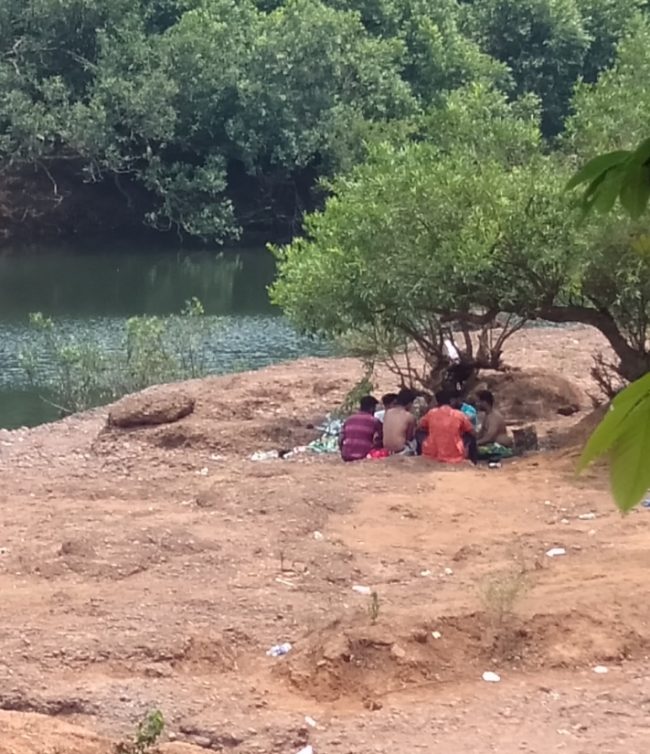 Goemkarponn desk
PONDA: As the summer heat increases, people flock to beaches and river baths to beat the heat.
However, the Locals express concern after the drowning deaths of youth from Bethora at Dabal.
Luckily one youth was rescued. Following this, the locals residing at the Bank of the river upstream and downstream have demanded that the Government implement strict measures to prevent the deaths of young generations.
Drinking and taking a bath is risky for picnickers, and if locals alert them, the picnickers often start arguing; therefore, people avoid arguments with them, said the locals.
According to locals, after consuming alcohol, the body's resistance gets weak, and many youths, including migrants, died from drowning while taking a bath in a river in the past more than a decade.
Recently on the occasion of Holi, there were clashes between locals and Police wherein Police assaulted the locals brutally while taking a bath at Kodar river following two constables were suspended by Department.
The locals also said Police need to petrol the hotspot in the river on holidays where picnickers enjoy a bath at dangerous spots. If possible, the Government should depute lifeguards at the river.
Dudhsagar river, which is a tributary of the Mhadei river flowing from Karnataka on which the OPA treatment Plant is based at Khandepar Ponda, is known by various names at its upstream and down streams in various parts of Dharbandora and Ponda Taluka and is the attraction of people, especially in swimming in its cold water.
The youths from various parts often take part in picnic at Kodar river and sometimes lose their life due to unware of dangerous spots in the river.
However, following several deaths, the Goa Can NGO complained to Ponda and Dharbandora Deputy Collector last year to implement safety measures on the Bank of the river to prevent youths from visiting the river.
The compound wall construction also began at Kodar, where maximum deaths occurred. However, since the river covers several km, it is difficult to construct fencing all along the river bank. However, locals want to create more awareness to prevent deaths.
Comment