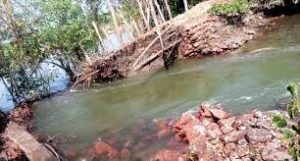 Goemkarponn desk
PONDA: Marcaim farmers reiterated the demand for an audited statement of account by the former committee. Resolved not to conduct an auction of the sluice gate until accounts are submitted.
Premanand Gaude, a member of the Adhock Committee recently appointed, said the meeting was held to discuss auctioning of the sluice gate as the breach in bandharas and sluice gate were repaired and restored recently.
He said even Ponda Mamlatdar had suggested conducting an auction of sluice gates as repair works on breached bandharas were conducted. However, farmers insisted that the previous Committee looking after affairs of the Bar Amre Khajan Tenant Committee should submit the audited accounts of income and expenditure statements for the past six years.
In its meeting, the Farmers belonging to Bar Amre Khajan Tenant Association opposed the proposal to auction sluice gates for fishing activities. The farmers told the Adhock Committee that before going for auction, they let the previous committee submit audited income and expenditure statements for the past six years, which they still need to submit despite repeated demands.
In February, an uproar over the breach in bandhara in vast agricultural land led to submerging the vast Bar Amre Khajan field at Marcaim, where around 600 farmers cultivate Khajan Land was forced to keep their land fallow due to the field coming under saline water.
The farmers were furious about the non-maintenance of Bandhara following the farmer's committee's failure to repair it on time. Following this series of meetings were held where the committee needed to submit the audited statement. The farmers alleged scam in account to the tune of several crores.
Later the previous committee was dissolved, and an ad-hoc committee was elected in the presence of Ponda Mamlatdar to probe into the matter.
Comment