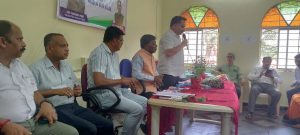 Goemkarponn desk
CANACONA: PWD Minister Nilesh Cabral rebuked an officer at the Prashashan Tumchea Dhari program at Canacona, saying, 'No priority is needed for regular departmental works, concerned officers had to do it, or else I'll ask priority for your salary'.
Even as elected representatives raised issues and problems at the Prashashan Tumchea Dhari program, Environment Minister Nilesh Cabral flatly refused to grant the demands to extend the 5-years CRZ NOCs issued to the Tourism Stakeholders expiring this year for a year.
Cabral, who is also the minister for PWD and the other 4 ministries, is presenting the government at its program of 'Prashashan Tumchea Dhari' at Canacona was receiving various issues and grievances being voiced/raised by elected representatives and members of the general public of Canacona.
At first, CMC Chairperson Ramakant Naikgaunkar handed over a list of grievances from Canacona municipality; Councillors were also permitted to list their issues, if any.
After listing a horde of issues like road widening of the narrow Palolem street, power problems and water supply at his coastal ward of Ourem-Palolem, Ex-CMC Chairperson and Councillor Simon Rebelo informed Nilesh Cabral that the 5-years CRZ licences/NOC's issued to Tourism Stakeholders are expired this year and requested to explore the possibility of extending the same by at least a year so that the tourism stakeholders will get some respite in their trade, and concerned need not dismantle their structures after the end of this season.
Earlier, the Team of Shristhal Village panchayat presented Minister Nilesh Cabral with a flower bouquet to thank him for carrying out all the work he was asked for during his visit to the panchayat two years ago.
Shortly later, Agonda Sarpanch Fatima Rodrigues, after requesting to improve the water-supply issue and repair of internal roads, also reiterated the grant of a 1-year extension for the 5-Year CRZ NOC's expiring this year. If not more, tourism activities on the Agonda coast are equally along with Palolem, as well as coastal Khola, Poinguinim and Loliem-Polem villages.
Visibly annoyed with the demand, an upset environment minister Cabral reacted by saying, 'Earlier, CRZ NOCs were granted only for a year, but based on the demand, the government facilitated it for a period of 5 years. Now, how come you can ask to increase it for 6 years. 'Tumi Bot ghalunk dilear hath ghaltat', this is not correct. For your benefits, the 1-year period was raised to 5 years. Once, the 5- years period is over, you need to apply it fresh and get another 5-year licence'.
While the minister continued to hear the grievances listed by various Sarpanch and panch, to a pointed grievance listed by Poinguinim Panchas Pravir Bhandari, Satish Poinguinkar and Shilpa Prabhugaonkar, Cabral turned his attention to asking for clarifications from PWD officers to the points raised by panchas. One of the PWD officers was heard telling the minister to get certain works on Priority, to which Cabral reacted angrily and asked the officer, 'What Priority do you want? Why are you asking for Priority? Was it your duty to do the work and move the files, as per the works that are undertaken? The department must carry out the work asked them to do; why you want Priority. You do your work for which you are paid a salary. Or else I will have to ask for Priority to pay your salary, Cabral rebuked the officer concerned.
Khotigao Sarpanch Anandu Dessai raised the issues of 15-km Avali Road saying estimates are ready but pending with the ministry, 3.5 km at Bordem-Kosmakade, and another road 3 km at Nadkem
In the absence of Gaondongrim, Sarpanch Dy sarpanch raised some issues about Gaondongrim.
Loliem-Polem sarpanch Pratiza Bandekar said the Water supply is a big issue in the village and the tank capacity is very less, and doesn't reach out to the people, and people do not supply for not even 2 hours on alternate days. Sarpanch also raised CRZ issues for the development of a road pole.
Poinguinim Sarpanch: Savita Tawadkar spoke; Pancha's Satish Poinguinkar asked for the laying of a 90 mm water supply line at Welwada, pending for the last 10 years, panchax's Pravir Bhandari asked for proper water pipeline, and Shilpa Prabhu Gaonkar raised the issue of retaining wall near the Church in her ward.
Comment