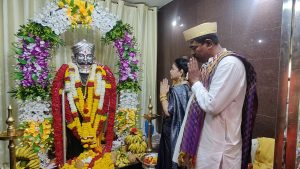 Goemkarponn Desk
MORMUGAO: Mormugao MLA Sankalp Amonkar on Friday performed the pooja during the 27th Vardhapan Diwas of the Khapreshwar Temple in Baina on Friday.
While Amonkar performed the pooja, Vasco MLA Krishna Salkar, Vasco BJP Mandal President Deepak Naik and Former Minister Jose Philip D'Souza also paid visit to the temple and offered prayers on the special occasion.
Speaking to media , Amonkar said that the temple commitee had offered prayers to Khapreshwar for his victory in the assembly elections.
" I was supposed to do the pooja during the last Vardhapan Diwas but i could not as there was code of conduct and my parents performed the pooja. It was then that the temple committee prayed for my victory and said that if I was elected, I would be made to perform the pooja for the annual Vardhapan Diwas for the next five years. The temple has a lot of devotees because prayers are answered here and i am a living example of this " said Amonkar
Vasco MLA Krishna Salkar said that the people from entire Taluka had visited the temple for its annual Vardhapan Diwas
" This is a very strong temple and i congratulate the commitee for having various social and cultural programs here and today we have seen hundreds of people are served food after offering prayers . I pray that the God gives us the strength to carry out good works for Vasco and help me bring back the glory of Vasco that has been lagging behind for many years " said Salkar
Khapreshwar Temple committee president Pramod Desai said that while the temple was celebrating its 27th Anniversary, the temple was over a 100 years old
" This is a very strong temple of thos area and it is believed that Khapreshwar will always guide and help the people in difficult times. We are having the Maha pooja performed by MLA Sankalp Amonkar and we have several programs lined up for the next four days. This year we have decided to felicitate the four persons MLAs Sankalp Amonkar , Krishna Salkar , Ex Minister Jose Philip D'Souza and Local councilor Deepak Naik who have always supported us at all times since a very long time and the felicitation will be done in the hands of renowned Election officer Narayan Navati instead of the temple commitee members " said Desai
Temple commitee member Shivdas Naik said that the people of all religions had attended the Vardhapan Diwas functions on Friday
" Our committee has been working very hard for this temple and it's functions with a lot of support from the devotees. This year our temple committee president Pramod Desai has offered a silver Stick to our Lord Khapreshwar during the annual Vardhapan Diwas functions. " Said Naik
Comment