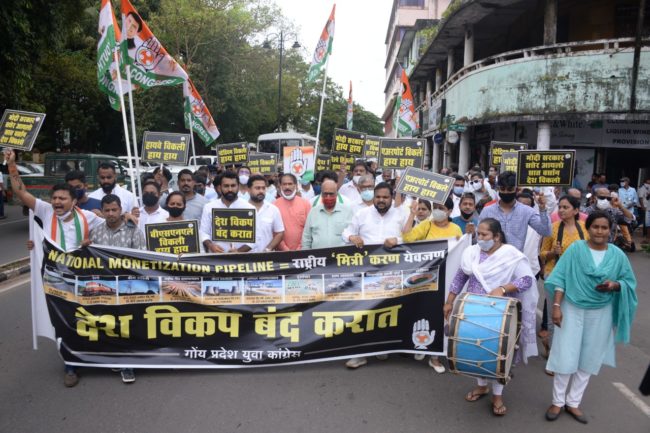 PANAJI: The leaders of Goa Pradesh Congress Committee and Goa Pradesh Youth Congress on Saturday lashed out at the Centre, over the National Monetisation Pipeline calling it as big scam by Prime Minister Narendra Modi.
The Congress wings agitated in capital city Panjim, as part of nationwide protest and said that BJP is trying to Sell the nation.
The leader of Opposition Digambar Kamat, GPCC President Girish Chodankar, former minister Alex Sequeira, Youth President Adv. Varad Mardolkar, GPCC Vice president Sankalp Amonkar, General secretary Janardhan Bhandari, Rudolph Fernandes, Youth Congress Goa Incharge
Akhilesh Yadav, National Campaign Incharge Mohammed Harris Nalapad, Youth Gen secretary Archit Naik, north District President Vivek d Silva, Glean Cabral, Saish Aroskar and others were present on the occasion.
Digambar Kamat speaking on the occasion said that Modi government is all out to sell from highways to railways and from stadiums to airports. "Modi government is not even sparing telecom, mining and electricity. All is for sale. Tomorrow they will sell our heritage." Kamat said.
He said that this is a conscious effort by Prime Minister Narendra Modi to create monopolies.
Listing out sectors which are going to opened up for private sector involvement, Kamat claimed that around four crony capitalists will be the only beneficiaries of this new Jhumla by BJP.
He said the NMP is a scandal. "The government has clearly mishandled the economy and now it is collapsed. Baffled with same, they don't know what to do. Hence they are selling our nation." He said.
Girish Chodankar also termed this act of BJP as scam. "we have always said that Modi is all out to sell nation, which is coming into reality by his acts." He said.
Adv. Mardolkar said that our country has built so many thing over the last 70 years, but is being given away BJP.
"Saying that it is being leased is new Jhumla by BJP." He said.
Comment