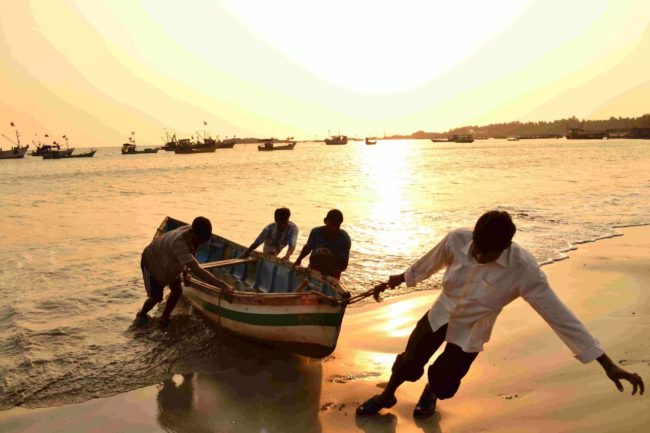 Goemkarponn desk
VASCO: National Fishworkers forum commenced the 2nd of Machhimar Sangharsh Yatra at Odisha with the Union members like Leo Colaco Chairperson, Olencio Simoes General Secretary, Vice-chairperson K.Yellayya, Purnima Mehar, Ujwala Patil and Prasanna Kumar Behera visited the affiliated Orissa Traditional Fisherworkers Union at Odisha.
The team spent three days with the sole objective of demanding the "Coastal Rights Bill" for the coastal communities of Odisha. The delegation also visited the highly affected areas where fish workers are denied the fundamental base right to freshwater, air and livelihoods.
Olencio stated that this awareness also created awareness among the fishing community of India, which continues to be excluded and marginalised, and their resources are being exploited to the hilt by corporate-backed strategies.
Several policies and legislative changes in recent times, such as the National Fisheries Policy 2020 (draft), Coastal Regulation Zone 2019 Notification and 2021 amendment, Indian Marine Fisheries Bill 2021, Major Ports Authority Act 2021, Sagarmala Programme, National waterways act 2016, and several others have further exacerbated the resource grab.
NFF delegation visited places in Chandrabaga, Kornak, Gopalpur and Paradeep.
Olencio Stated that the Traditional fishers live in a Pathetic condition and are the victims of destructive, unsustainable development projects and economic programmes leading to ecological devastation along the coast and seas, economic pauperisation of fishers' families, and eroding the customary rights and homelands of fishing communities.
Further, the frequent Disasters and impacts of climate change have been challenging the life and livelihoods of the fishers and marginalised them in a major way. Olencio stated that 6 rivers and the entire coastline of Odisha are likely to be taken over by Paradip Port authority under the major port authority act 2021 as this is likely to displace 44lakhs traditional livelihoods of fishworkers across Odisha. NFF has urged that the central government and the fisheries department immediately initiate the process to complete the Coastal Right bill, which was kept absent by the previous UPA government, failing which they will force to take the rally to Delhi.
Comment