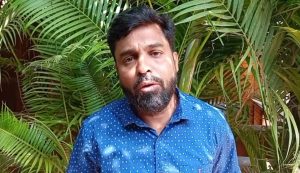 Goemkarponn desk
CANACONA: Alleging that the BJP government is neck-deep involved in promoting Coal in Goa, Goa Forward Party Environment Cell Chief Vikas Bhagat said Chief Minister Pramod Sawant's government is not only 'Event Management Government' but also 'Coal Management Government'.
"Chief Minister Pramod Sawant's promise that there will be no further increase in coal handling at Mormugao port has now been proved to be false'," said Convenor of Environment Cell of Goa Forward Vikas Bhagat.
Bhagat alleged that Chief Minister Pramod Sawant has betrayed Goenkars in this matter as well
the Union Ministry of Forests and Environment has approved the handling of 13 million tonnes of Coal at a berth in Mormugao port, which was earlier handling just about 7.50 million tonnes of Coal.
While criticizing the State Government, Bhagat said, in the past, in November 2020, Chief Minister Sawant had said twice that there would be no increase in the handling of Coal at this port, but rather it would decrease thereafter.
Questioning what has happened to that assurance, he (Bhagat) alleged that 'this double engine government has once again proved that the central engine does not value the local engine and is driving this local engine to a non-entity. Instead of capping the coal handling, it has been increased instead '.
'Our (GFP) president Vijay Sardesai is calling this government an event management government. This government is an event management government and a coal management government'.
Bhagat further alleged that this government is making bad decisions because these politicians are being pressured by the Coal emperor.
Comment