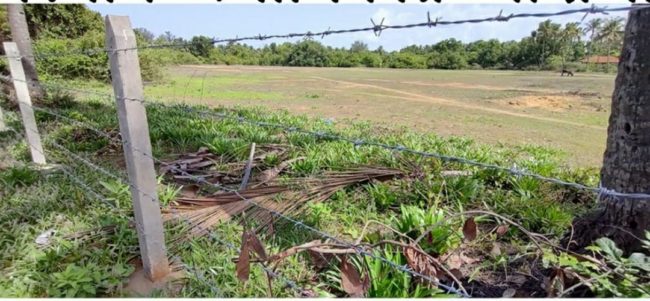 Goemkarponn desk
CANACONA – Expressing dissent over blocking of the traditional pathway by erecting barbed wire fencing, residents of Patnem demanded immediate restoration of the traditional access to a temple and crematorium in the vicinity.
Patnem Councillor Shubham Komarpant and other residents of the area addressing media informed the land admeasuring about 16 lakhs square metres was purchased by an outstation party some years ago, and it was assured at that time that no locals accesses would be blocked, or locals would be harassed, but a week ago, a barbed wire fencing works are carried out to the entire land.
According to Komarpant, there is a passage/pathway through this same land to go to the crematorium; besides, there is a hundred-year-old temple. People visit this temple during every New Moon (Amavasya) and Full-moon (Purnima). Also, several traditional fishermen's houses are located at Patnem and they are known to use the same pathway to bring and shift their fishing nets and related materials through this same access.
"How this barbed wire fencing is erected? This is purely illegal and unwanted, and after the people expressed their anger, I complained to the various authorities, including Dy. Collector, Canacona Mamlatdar, Canacona Municipality and also to Canacona MLA Ramesh Tawadkar, but till now the people are not getting any response or support of the concerned," he said.
"Let any project come here, but the concerned should honour our demand to keep a 1-metre pathway by shifting the barbed wire fencing inside. We need this traditional pathway existing for ages for the benefit of us locals, as we cannot afford to stop our rituals and practices. If our demands are not met, we won't hesitate to go to any authorities or go to any extent to maintain our traditional pathway", stated a local youth Sunay Komarpant.
Umesh Pagi, Nanda Pagi, Divesh Pagi, Pradeep Mokhardkar, Shambu Pagi, Surendra Pagui, Sabnesh Pagui and Aneesh Pagui were also present during media briefing.
Comment