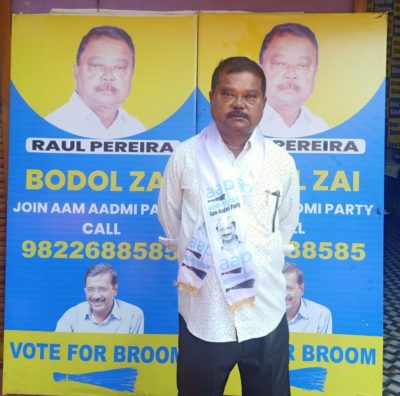 Christanand Pednekar/Goemkarponn desk
CURCHOREM: Curchorem and Quepem Aam Aadmi Party candidates claimed that people will vote for the AAP as they crave change.
After Aam Aadmi Party declared its party ticket to Gabriel Fernandes from Curchorem constituency, Fernandes told exclusively to Goemkarponn reporter that there would be a fight between BJP and AAP in Curchorem this election and Congress is not at all in the race.
He said that he and his AAP supporters have been actively doing social work for the past six years and has built rapport with the people of Curchorem.
Declaring him the party ticket is rewarding," Fernandes opined.
When asked why he feels that people would vote for AAP this time, Fernandes replied that during his campaigning and personal visit, he has noticed and understood that people want change and have seen AAP's Delhi Kejriwal model of development. "The schemes AAP has promised to the people, considering all these things people will vote for AAP," he added.
Meanwhile, Raul Pereira, who was declared AAP ticket in the Quepem constituency, also expressed his gratitude towards the party for considering his candidature.
Pereira told Goemkarponn that he could easily take on BJP candidate Dy Chief Minister Chandrakant (Babu) Kavlekar for this assembly election as Kavlekar has no stronghold and support in an around Quepem municipal area.
Pereira further informed that during his door to door campaigning in the Quepem constituency, people expressed their dismay over the BJP and Congress parties. "People want change and good governance, which AAP will bring. We are receiving a good response from the people," Pereira said.
When questioned whether he would give a tough time to Kavlekar, Raul replied that he has worked with Kavlekar in the past and knows that whenever Kavlekar went in minus in panchayat areas, in the municipal area, we made him strong.
"This strategy worked in past two elections". But this time, things have changed, and people will vote for change," Pereira added.
Comment