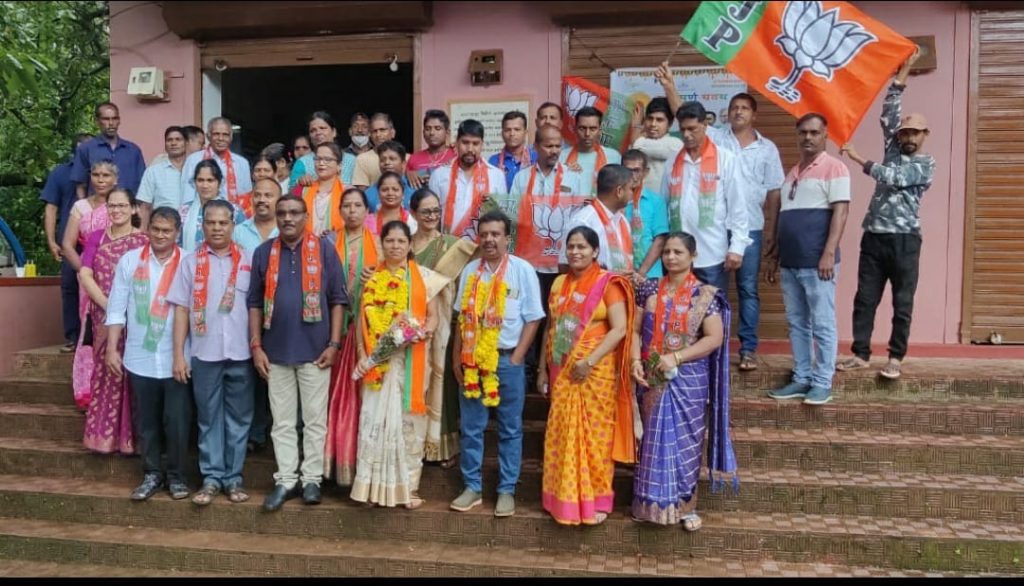 Goemkarponn desk
CANACONA – In a record of sorts, six Sarpanch's and all the seven Dy Sarpanch posts were filled unanimously in the seven village panchayats of Canacona taluka.
Respective presiding officers, in the presence of panchayat secretaries, initially accepted the nominations for the posts of Sarpanch and Dy Sarpanch to begin the process for the elections to the posts.
The verification and scrutiny were done while completing the elections process, and as none of the posts called for elections, as only lone nominations were received, the Presiding Officers at 12.00 hrs declared the unanimous appointment of Sarpanch and Dy. Sarpanch.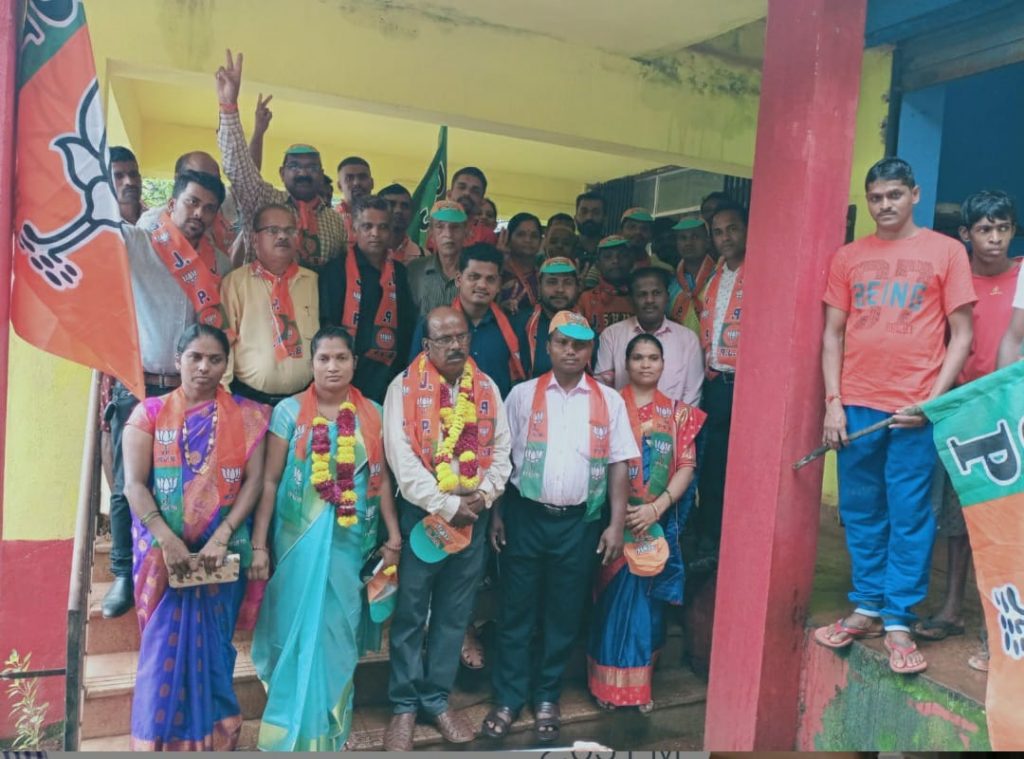 At Gaondongrim, seasoned and 30 years experienced Yeshwant (Dhillon) Desai had to face the contest, as Prabhakar Gaonkar also filed his nomination for the post of Sarpanch. In the ballots that followed, Dessai triumphed with 5-3 votes as one vote was not accounted for in the 9- members' Gaondongrim panchayat. Saloni Gaonkar is, however, declared elected unopposed.
Incidentally, all the Seven Panchayats showed their affiliation to the BJP government and assured to bring all-round development to their respective villages.
While all 7 members making a first-time entry into Agonda Panchayat, 71- year old Fatima Rodrigues and 25-year-old Prettal Fernandes were elected unopposed as Sarpanch and Dy Sarpanch declared Presiding officer Sachin G Gaonkar.
Incidentally, all the Seven members later wore the BJP party scarf to show solidarity with their togetherness with the BJP government and assured to work in tandem with the government.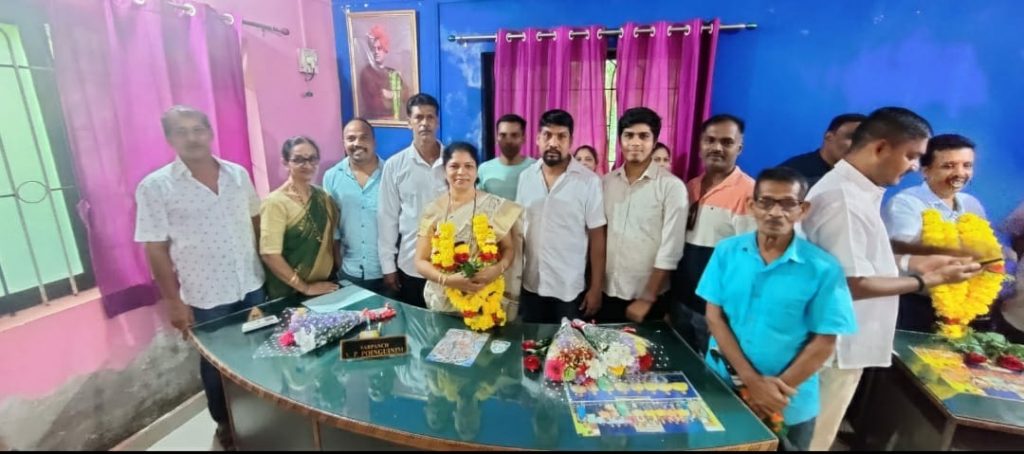 At Khola, Ajay Pagui is elected unopposed for the post of Sarpanch, while Krupesh Velip is also elected unopposed in the 9-members Khola panchayat. Maneesh Gaonkar, Presiding Officer, presided over the special meeting to elect Sarpanch and Dy Sarpanch. According to sources, in a meeting with Ex-Dy CM and BJP Vice-president Chandrakant Kavlekar, the posts of Sarpanch and Dy Sarpanch are reported to be shared each for 8 months as the demand for the post of Sarpanch grew from 7 of the 9 panch-elects.
At Shrishthal Sejal Purushottam Gaonkar panch of Vaizawada is elected Sarpanch, while Shivraj V Naik Deshmukh is elected unopposed as decided in the meeting with Dy Speaker Ramesh Tawadkar. Prashant
Gaonkar is the presiding officer.
At Poinguinim, it was a cakewalk as anticipated as the Speakers wife, Savita Ramesh Tawadkar, was declared won unopposed to the post of Sarpanch, and so was Sunil Shreedhar Paingankar as Dy Sarpanch.
Mr. Desai was the presiding officer.
Khotigao, Ananda Ganaba Desai and Punamal Chandrakant Gaonkar were elected unopposed by Speaker Tawadkar.
Loliem-Polem panchayat elected Pratiza Sachin Bandekar as Sarpanch and Chandrakant Babai Sudhir as Dy Sarpanch unopposed.
Rajendra Sawant is the presiding officer at the Loliem-Polem panchayat.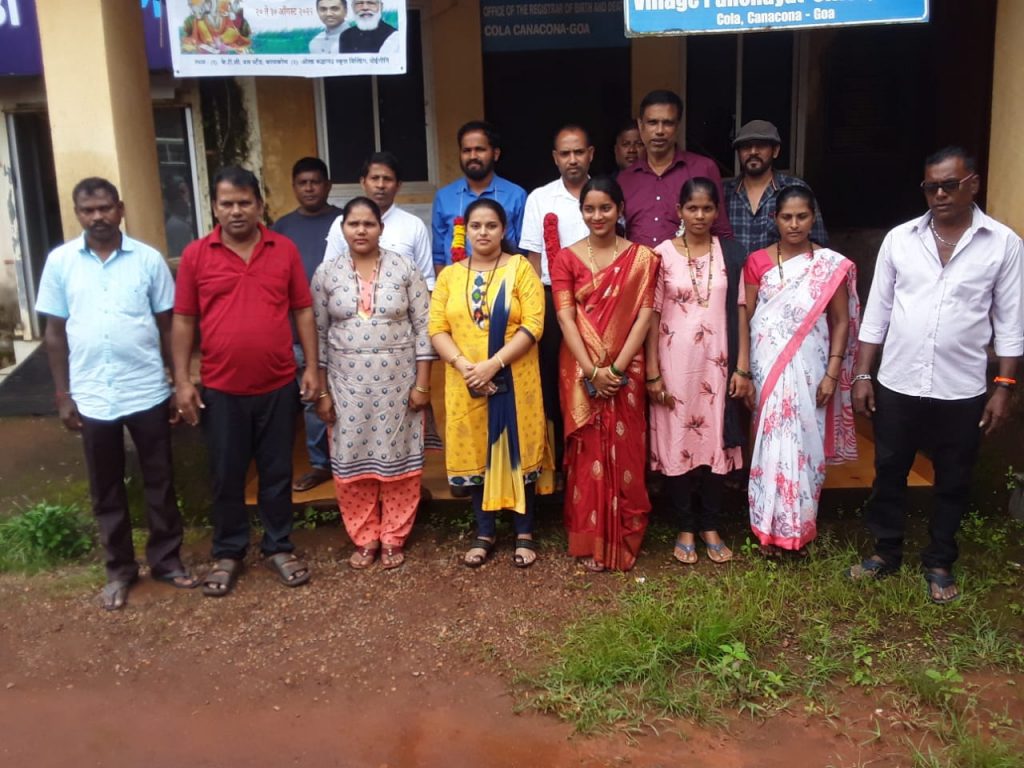 Comment