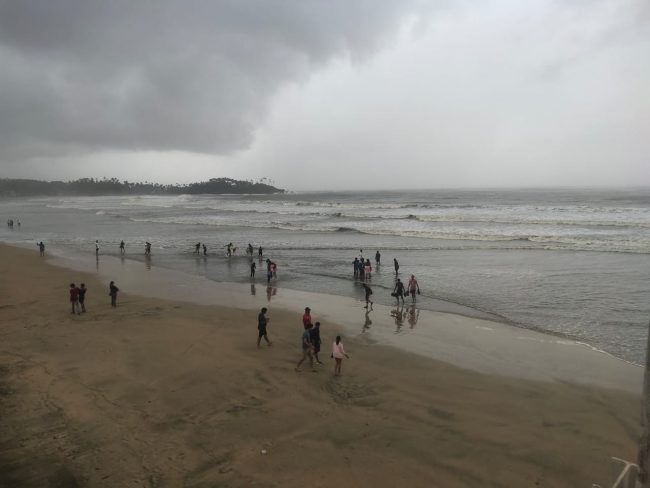 Goemkarponn desk
CANACONA – An early morning fishing trip in the serene waters of the Arabian sea suddenly turned life-threatening as their fishing as strong winds and rough seas got their fishing boat stranded in the rocks off the Palolem coast.
However, two of the Drishti Life Saving Force lifeguards, braving the rough seas and threatening winds, used jet-ski scooters, helped pull off the fishing boat almost stranded into the rocks off the rocky coast on Ourem-side off Palolem Coast, and brought all the five fishermen onto the shore.
According to sources, as per their traditional practice, in a motorboat, five local fishermen had ventured into otherwise cool and serene seawaters early morning; however, while releasing the fishing nets (kantali) into the sea, they learnt that their motor had stopped working, and as the sea suddenly turned rough with strong winds blowing and tumultuous bloating waves hissing around, the boat (Path) began to drift away. All the five using manual rowing flaps, took control of the boat and started to reach the shore; however, strong winds and tumultuous sea made it impossible, and the Path (boat), began to drift towards the rocky shore on the Ourem-side of Palolem coast.
Seeing the impending dangerous situation, one of the fishermen called up his contacts on the shore and explained the situation. The local at Palolem lost no time but quickly contacted the Drishti Life Saving Tower at Palolem and explained the situation. Two of the Life Saving Force (lifeguards) showed courage and, taking two Jet-ski's, immediately ventured into the sea and headed towards Ourem rocks.
Using the ropes available on the boat, pulled the Path, which was almost drifting and stuck amidst the rocks, till it reached safe waters, and further helped all the stranded fishermen to alight on Palolem shore sands safe and sound, bringing to an end an ardent ordeal which would have turned a major calamity.
Drishti lifesavers Ankush and Santosh were the Drishti staff who took the bold decision and ventured out into the sea after the incident was brought to their notice. The two lifeguards sprang into action right away and hurried to help the stranded fishermen. The duo departed the coast on jet skis, freed the boat and towed it back to shore with the 05 fishermen on board, who were relieved to be back onshore.
Meanwhile, amidst weather warnings, the Canacona coast sea had turned violent and rough throughout Monday, even as fishermen were warned not to venture out for fishing.
Comment