Residents object to film/ video shooting at Maxem bridge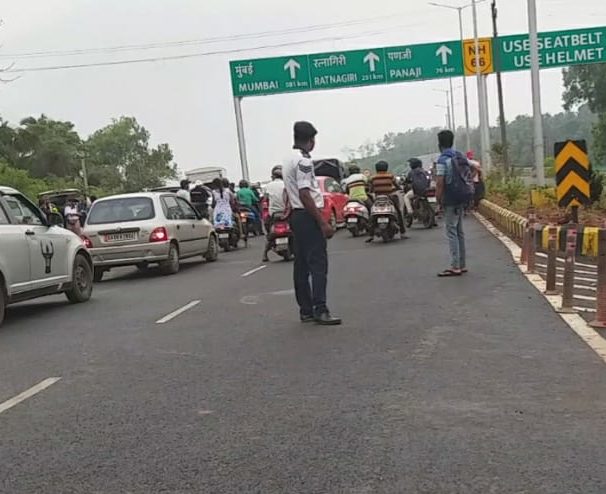 Goemkarponn desk
CANACONA – Residents in Loliem -Polem village objected to blocking NH-66 road at Maxem bridge to enable shooting a film/video without anyone's permission.
Highway traffic was halted for well over an hour as a film party' reportedly took up shooting in the middle of the road, inviting the ire of motorists and residents.
According to a local Vishant Prabhugaongkar, no Highway road can be blocked even if permission is obtained for a film shooting from the concerned authorities.
According to sources, ESG has granted permission for a film shoot to a party from Porvorim on Friday Galgibaga roads, Galgibaga Maxem Roads and Bridge between 7am to 9 pm and has notified Poinguinim Panchayat accordingly.
But according to locals and as confirmed by Loliem-Polem Sarpanch Sachin Naik, no such order or any intimation is received from ESG by Loliem -Polem panchayat, as one end of Galgibaga Maxem Road with bridge comes under Village Panchayat of Loliem-Polem.
Locals were apprehensive that the frequent halts of highway traffic plying on MPCBR NH-66 road at Maxem were carried out by Canacona police itself', and whether the police authorities were not aware of the same. Besides, the said ESG order clearly specifies that the regular traffic movement is not disturbed or obstructed at any of the film shooting site mentioned in the order/application and that while shooting, no nuisance, disturbances or obstruction are caused to the general public/tourists.
'This type of daylight violation by a film shooting party and moreover supported by Canacona police authorities is a clear violation of the violations of the permission order, and ESG and Police authorities need to explain to the public why traffic was stopped at Maxem junction, and video shooting was allowed on the Maxem bridge without intimation to the local body (Loliem-Polem panchayat)', demanded residents.
Comment