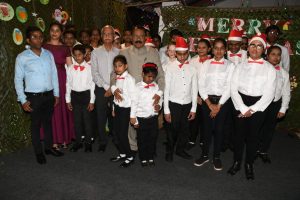 Goemkapronn desk
PANAJI: Governor of Goa, P.S. Sreedharan Pillai today attended the Christmas programme organised by the Goa chapter of the National Association for the Blind as part of its annual celebrations.
Speaking on occasion, Governor of Goa P.S Sreedharan Pillai expressing happiness to visit NAB institute, said the message of Jesus to the world was love, kindness and dedication. We should always try to bring happiness to other people. Service to people is service to God, he remarked.
He appreciated the staff and teachers of the National Association for the Blind for their praiseworthy work in their teaching field.
Goa is the Number one State for highest per capita income while Mizoram is the number one happiest State among all the States in the Country, he said and highlighted the importance of maintaining unity in diversity in our Country.
Governor also released the Coffee Table Book with the title " Guardian of Hope ", written by Smt Pournima Pirolkar on occasion.
Students of the National Association for the Blind also presented dance and songs on occasion.
Present on occasion were Rosendo Mendonsa, President of the Association, Vice President, Smt Pournima Pirolkar and other dignitaries.
Comment