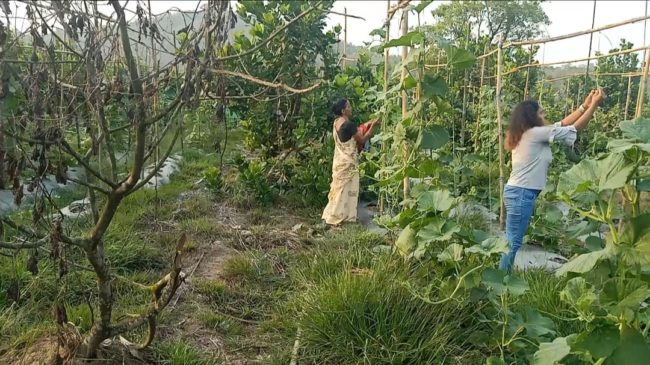 Goemkarponn desk
SANGUEM: Mother-daughter duo cultivators from Dando-Sanguem cry foul over non-payment from Horticulture farming.
Tina Naik and her mother started their horticulture plantation around two years back, considering that it would help our family to do independent business without depending on others.
After losing her father, Tina and her mother are totally dependent on the horticulture business, but she said she has been running the family business for the last two years; the major problem they are facing from Goa State Horticulture Corporation is that they are not paying our bills on time.
"They are taking 2 or 3 months to clear the bills; because of this, we farmers have to invest our own money in the business we have been doing for the last two years. We have to buy fertilizers, insecticides, and other medicine for plants. We can't wait for the government and see when Goa state horticulture corporation will pay the bills, and we will buy these things for the farm and make payment to the workers," Tina said.
Now labourers in Goa are more expensive; some charge 800 per day, some more than this. I often call the MD of Goa state Horticulture corporation, and he always tells that they will pay bills on time, which has never happened until now, she added.
Delay in the payments is one of the main reasons people don't want to come into this business, Naik said.
Comment