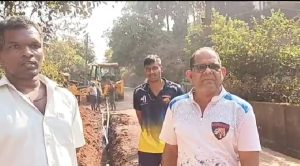 Goemkarponn desk
PONDA: Karay Shiroda local Milind Mamlekar and his brother Satyawan Mamlekar complain that some farmers' illegal storage of seawater for the past three years in the field for fishing activities poses a threat to his house and property.
His house is located on the bank of the field, bordering his property just five meters away from his home.
He said the Government should directly release the saline water and encourage farmers to cultivate paddy crops.
Milind Mamlekar and his brother at Shiroda complained that sea or saline water storage in the field near his house threatens his home and may collapse if seawater stored in the area is not released.

Milind said some people are involved in fishing activities, and water has been stored for a long time, so his house is located on the bank of the field, receiving dampness on its walls, making it weak and may lead to house collapse.
He further said the laterite stones were also affected due to saline water seepage. He paints his house, and soon dampness on the wall damages it. He said the bund in his property also collapsed due to saline water, posing a home risk.
Milind said the field is meant for paddy agriculture activity. Even Government had constructed a bandhara for the farmers intending to cultivate paddy crops, but some farmers store water for fishing activity, posing a risk to their house.
He said in 2021, he had submitted a letter to Ponda Mamlatdar asking to take action against seawater stored in a field, which is causing damage to his property.
After a complaint, the seawater was released, but the water is now stored in the field for fishing activity. He said his house is hit due to dampness, and coconut production is also affected.
He said he was taking yearly production of 3000 coconuts, but now the coconut trees also do not bear fruits due to seawater seepage.
Comment