Height of Corruption?
Smart City Works carried out in Old Ritz Classic lane smacks of corruption
Work delayed by three months and yet remains unfinished
Drain Water flowing on the footpath, broken tiles, electric wires left open
 IPSCDL blames hotelier for dumping waste in drains
IPSCDL assures to rectify mistakes if any
Goemkarponn desk
PANAJI: Well, when Panaji city was declared selected for development as a Smart City by
Prime Minister Narendra Modi-led Central government, it was opined that the city would get a complete makeover with modern technologies and commuting would be a lot easier.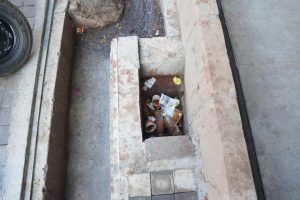 However, exactly the opposite of this is being seen in the city.
There has been nothing worth mentioning about the development except the potholes and road-digging leading to complete chaos on the city roads.
It is not the city, but the Officers and Politicians have become Smarter about how to carry out corruption.
Today Goemkarponn brings you a glaring example of how public money is being wasted.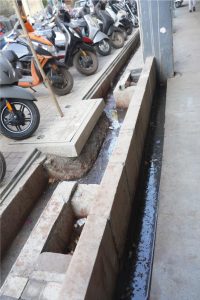 An example is the small stretch in the heart of the city, near the Old Ritz restaurant, near Cafe Bhosle.
The Imagine Panaji City Smart City Development Corporation (IPSCDL) started this work in July or August last year.
The around 50-meter stretch was closed for commuting for the work, and the shopkeepers and hotels were assured the work would be taken up on war footing and finished in two months.
However, that was not to be; the IPSCDL took more than five months to complete work and even after finishing, the work was far from complete.
Upon request from shopkeepers, Goemkarponn visited the site and what was seen was shocking.
Lakhs and crores of rupees of public money were spent on pavement and roadside drains, but shockingly, the water, instead of flowing through drains, is seen accumulated on footpaths.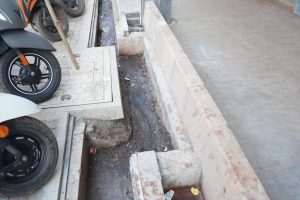 The worse was the newly fitted tiles had already broken, electric wires were left uncovered, and the whole place seemed to be a war zone.
Speaking to one of the shopkeepers, he said, "for the last five months, we had no business as they closed the road, and when they opened, we can see the sub-standard works."
He said the IPSCDL told them the work would be completed in two months, but the contractor took his own sweet time.
"This is sub-standard work, and the contractor and the engineers need to be arrested for corruption and wasting public money," said another local businessman.
When contacted the Silvano Sequeira of IPSCDL, who is in charge of works, said that he had held a meeting with officials and shopkeepers and the issues would be sorted out soon.
Shockingly, instead of accepting the mistake, Silvano blamed the hoteliers saying, "they were dumping waste in drains, and hence they were getting clogged, and water was flowing on the footpath."
"I have instructed the contractor and my men to rectify the issues as soon as possible," he said.
Comment