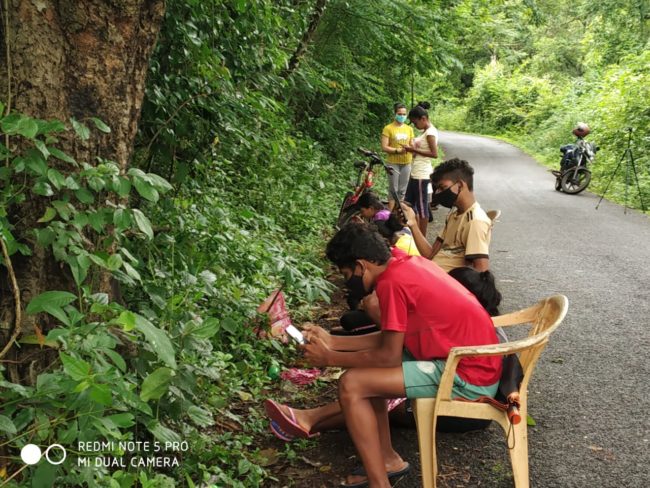 Goemkarponn desk
PONDA: It's been almost 16 months now, and the State government is still struggling to put together telecom infrastructure in the State.
Dr Pramod Sawant made several announcements, but there has been no improvement in the network connectivity situation.
During the pandemic, the victims have been the students who have lost precious years of their school and academics. The online classes till now have been a huge failure.
Goemkarponn has reported how students walk kilometres to get better signals to attend the Online Classes, but here is a situation where students risk sitting on the road to get better signals.
The students are now braving the hot sun, rain, and wild animals so that they do not miss the online classes.
Goemkarponn visited a remote village called Udden and Torla, Shiroda, where around 45 students walk for around seven kilometres daily to sit y the side of the road to get better network connectivity for Online Classes.
The students lament that have no network connectivity in the village.
The 45 students from fifth to twelfth standard walk 3.5 km, one way, at Avdakade Junction and joins online classes.
When Goemkarponn visited the junction, it was a shocking scene. Students were sitting by the side of the road, on the chairs which they carry from home.
This is a place wherein many vehicles pass, and god forbid if a vehicle loses control, there could be a tragedy in the happening.
Besides, locals also state that many wild animals have also been seen at this place.
"This is a big risk taken by students and their parents," say locals.
The students said, "there is one BSNL tower in the village, and that has only mobile range but internet connectivity, so we walk to at Avadkade Junction where they get internet connectivity from Wageli Tower".
The villagers say they have demanded two towers at Pazer Shiroda and at Sonsodo to resolve the network connectivity issue.
"We have also submitted a memorandum to BSNL and MLA Subash Shoirodkar, but there has been no progress," parents said.
Former ZP Jaydeep Shirodkar says that apart from the network connectivity, the parents also face financial problems.
"There is also a financial problem for many parents to buy mobile, especially parents with two or three children," he said.
He added that the government should provide free mobile for students not to be deprived of education.
Aam Aadmi Party's Surel Tilve said that the students in far-flung districts risked life and limb due to lack of connectivity.
"The BJP Govt in Goa is once again jeopardising the education of Goan children with its heartless and mindless policies & its failure to build up Goa's infrastructure. Due to the pandemic, students have been asked to attend online classes. However, for the Sawant Sarkaar, this seems to have just been a decision on paper. Many students, especially in rural Goa, have no access to the internet for their studies, jeopardising their future. Students are forced to walk miles, climb mountains and stand in the rain to get a basic education. Is this how the future of Goa should be treated?" he said.
He said the Sawant Sarkar should provide net connectivity in nearby primary schools/polling booths or any community centre or temple hall at the village level to attend online classes in a safe environment.
"Students in rural Goa are being left with a severe disadvantage that will have a long-reaching impact on their development, employability and their future. These students have no access to the internet or mobile connectivity.
Comment