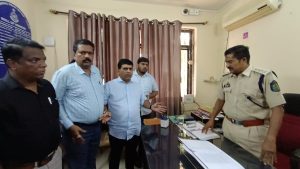 Goemkarponn desk
PANAJI: Vasco MLA Krishna Salkar and a large number of people from different Hindu organisations met the Mormugao DySP Salim Shaikh at the Vasco police station on Monday to demand action against the culprits involved in the attack on the priest of the Maruti Temple in Baina.
Salkar also offered an ultimatum of seven days to the police to register a strong case against the 15 culprits involved in the attack and asked the Vasco police to revive the Baina Police Outpost to tackle issues about Baina beach.
Mormugao DySP Salim Shaikh later assured the groups that the police would initiate immediate action on the culprits and start the Baina Police Outpost and increase patrolling so that such incidents are not repeated in the future.
Speaking to the media, Salkar said that the police should send a very strong message that religious priests of any religion should not be attacked.
"The incident is unfortunate and should have never happened in the first place, and the police have not even taken the incident seriously. No one has the right to attack any religious heads, no matter what happens and this mentality has to be stopped," he said.
He said the temple and the priests are doing a good job, and the well-lit temple that is open till late at night also offers security to the women who come to the beach.
"If the priests and the temple workers are assaulted, and they escape scot-free, it will send a wrong message to everyone. We have now met the DySP and given an ultimatum that this eye washes action on culprits will not be tolerated, and a strong case on unlawful assembly, assault, wrongful restraint, rioting has to be registered against all the 15 persons involved," he said.
Salkar said he has given an ultimatum for a week because a common man is afraid to go on the beach, and there has to be immediately arrested and produced before the court.
"We have also requested the Vasco police to start the Baina Outpost and to increase police patrols. We have also informed the CM, Dr Pramod Sawant, about this incident and various other anti-social activities happening on the beach, and if the police do not act on this incident, we will be forced to come out in larger numbers, and police will be responsible," said Salkar.
Mormugao BJP observer Jayant Jadhav said that the police must immediately suspend the officer on duty at the Mormugao police station who had harassed the priest who had gone to complain about the incident.
"We have been following up with the police since the 31st and even met the Police inspector, but they placed a simple offence and let it go, which is not acceptable. 15 people have brutally attacked the priest and temple workers and caused injuries, and there has to be a criminal offence registered," he said.
Comment