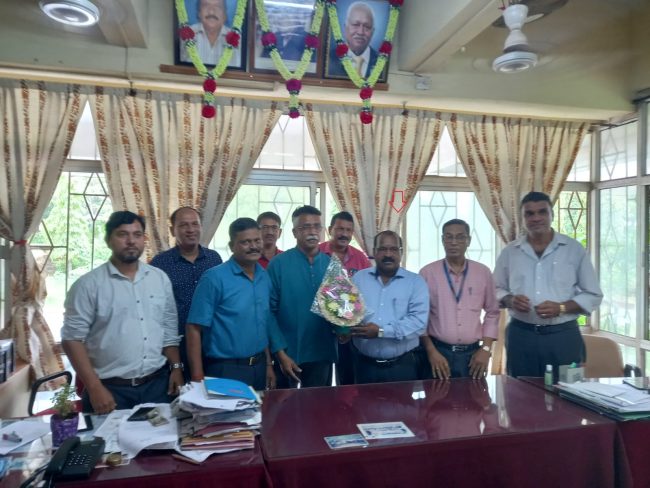 Goemkarponn desk
VASCO: Ulhas Thanekar was elected as President of the Mormugao Port & Workers' Union. The post of the President of the MPRW union was vacant for the last 14 months.
In the executive meeting, which was held on 14/07/2022, Ulhas Thanekar was elected as President of Mormugao Port & Railway Workers' Union (MPRW) in the presence of P.M. Mohammed Haneef, President, All India Port & Dock Workers' Federation.
The post was vacant for 14 months, consequent to the sad demise of Late Com. Leonardo Rodrigues. Since the port is facing challenges of being privatized and other major issues, P.M. Mohammed Haneef intervened and facilitated electing the local President.
Ulhas Thanekar is a popular face, working as a License Driver in the Marine Department of MPA, having joined the port services in 1995 and has immensely contributed over 25 years in the trade union activism. Thanekar held various posts in the MPRW Union and held the post of Vice President. He is also the General Secretary of Mormugao Port Consumers Co-op Society Ltd., Headland Sada and represents the Union in various port committees constituted by MPA.
Furthermore, on the 13 & 14th, a National Co-ordination Committee (NCC) meeting was held at MPA guest house, Headland Sada, headed by P.M. Mohammed Haneef, discussed the structure of new wage settlement commencing from 01.01.2022 and allied issues pertaining to Class 3 & 4 employees of the major Indian ports.
The Federation decided to have a meeting of all affiliates at Kanyakumari on the 1st & 2nd of August 2022 to deliberate and create awareness about the issues locally/nationally to combat effectively, wherein the local leaders shall also be participating.
Comment