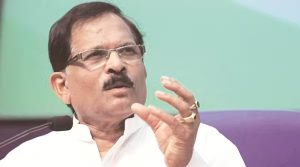 Goemkarponn Desk
PANAJI: Union Minister of State for Tourism, Shripad Naik stated that there is a chance that more opposition parties may join the NDA coalition before the parliamentary elections because both the general public and political leaders have a great deal of faith in Prime Minister Narendra Modi.
The alliance of the opposition parties under the name INDIA, according to Naik, will not affect the chances of the BJP winning the national elections in 2024.
Before the legislative elections, a number of opposition parties that are currently affiliated with INDIA are prepared to join the BJP-led NDA. We are not need to dismantle the opposition parties. They want to join us because of Prime Minister Narendra Modi's leadership,
He criticized the opposition for interfering with the just concluded parliamentary session and claimed that despite having been in power for 60 years, the Congress had behaved immaturely in the House.
"The Congress continually caused confusion in the Parliament, causing disruptions and wasting valuable time. In regards to the Manipur issue, they used dadagiri. They insisted on the PM speaking even though the Speaker had promised to host a discussion on Manipur, he said.
He claimed that there had been an attempt to resurrect extremism in Manipur, but the Centre had handled the situation extremely delicately.
Comment