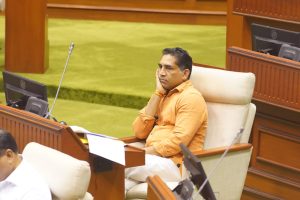 Vijai Sardesai is misleading the people of Goa, says the Minister for Sports, Art & Culture
Intro:
One Minister who is facing the heat in the Monsoon session of Goa Assembly is Govind Gaude, who has faced cuorruption charges from Opposition on Kala Academy and National Games. Goemkarponn Editor Speaks to the Minister on the two issue, though he refused to entertain questions on kala Academy claiming it to be a sub-judice issue, he replied to queries on National Games.
Excerpts:
Suraj Nandrekar: Why is the Opposition gunning for your head in this Assembly Session?
Govind Gaude: See as far as my knowledge is concerned I don't know the reason why Opposition is targetting me. To tell you frankly there is only one MLA from the Opposition. Other then the GF nobody else has been targetting me. If something was really wrong everyone would have targetted me. But here it means there is kind of personal targetting, I see it like this.
SN: Among 12 Ministers, why only Govind Gaude, does Vijai Sardesai hold any personal grudge against you?
GG: I don't know, he is my good friend, I maintain good relations with everyone. I really do not know what is wrong. Why this is happened only he (Vijai) can tell. I work for the betterment of Goans and whatever responsibility has bene shouldered on me by the Chief Minister I am trying to give justice to that because I am working round the clock. Maybe people see me as most performing minister and to malign that image or tarnish the image this may be the reason. Under my leadership National Games works are going on and that could be the reason.
SN: The National Games issue and the Kala Academy slab collapse issues seem to have come a t a wrong time. Do you feel unlucky over slab collapse before assembly?
GG: I don't think so, Kala Academy slab collapse is a natural calamity, it is an accident, it can happen at any time. Still then we cannot hold anyone responsible be it sports minister, PWD minister or the chief minister. Also we cannot hold the engineers responsible. Because this cannot eb predicted by anyone.
SN: You made a statement that Vijai Sardesai is trying to mislead the people, would you please elaborate on that?
GG: See, the motive is quite clear, he is not just asking one or two questions. He is asking N number of questions, but when I reply he isn't ready to listen because he just wants to valuabe time of the Assembly. People are waiting for their issues to be sorted and here we are wasting time. We have never seen a member asking 10-15 questions on an issue and mislead the people of Goa by not listening to replies.
SN: In a bid to clear youself did you try to say there was scam in Atal Setu? A statement you retracted soon after?
GG: My statement was misquted by the media. I never made that statement, it is available on public domain. The statement was made on 18th of July, but it was made viral two days later. Media does not take old news. This means someone tried to sabotage the issue. That means the crook-minded people have played their part.
SN: What I understand is that Sardesai wanted transperancy on Kala Academy and National Games. Is that not right?
GG: Who say there is no transperancy, everything has been transparant and I have given him written answers to him. I just want to know what is the Sports scam?
SN: Sardesai says there has been duplication of works and funds have been pocketed by someone… Is that wrong?
GG: That is what I said he is misleading the people of Goa. Whatever the works have been carried out in last one and half years are not taken again. These are totally different jobs. This is a diving pool at Fatorda he is talking about when the membrane is replaced. We have not touched the pools which are already renovated.
SN: What about the 5.24 cr paid to the PR agency for mascot launch?
GG: Again, the same thing, 5.29 cr is a tender amount which has been bided by the creative team. It is for consultancy which includes everything like designing the logo, designing the mascot, the anthem, the brand, sports kits, which is for entire National Games and not for just mascot launch.
SN: Is Goa ready to Host National Games?
GG: Very much, Goa is preparing for Games. As far as infrastructure is concerned we have not taken up new infrastructure development for this Games, only refurbishment is going on, some paintings, whtever the requirements are given by DoCs and the technical team of the Indian Olympic Association, which they reuqired for hosting the Games.
SN: Goa will spend Rs 225 cr for the National Games, how many medals do you think our owns sportspersons would win? How much of this money been spent on the Goan teams for preparations?
GG: Well, nobody can predict how mant medals will be won by our sportspersons. We are putting our every efforts to win medals. Even a star cannot say he is going to win as it is a sport, a game.
SN: But how is the preparation?
GG: That has been great. We have given clear instructions to the association of quality preparations. After the selection trials the athletes have to practice and practice and practice it is not in the hands of us politicians or government.
SN: But what kind of the support is the government providing the associations and athletes?
GG: We have assured every support to the associations and sportspersons. Whatever support is asked by them is being given.
SN: The government thus far seems to have failed to support the sportspersons as their reward money is not released on time.
GG: Who says this? Just give me one name who have won the medal and not got the reward. Last year I have given assurance on the floor of the House that before Ganesh Chaturthi I will clear all pending reward money. There may be some people who have not submitted the requisite documents and evidences only their money may be pending.
SN: You are hosting an event of just high octane and would be requiring support of the Opposition leaders as well. How do you tackle the issue?
GG: I am appealing to each and everyone, not just politicians, but also associations, former sportspersons and other stakeholders. Everybody's support is needed. It is not me or CM who is hosting Games, it is GOa which is hosting and Goans must benefit from the Games and parents motivate chidlren to take up sports. This is dream of our prime Minister, he speaks about sports whenever he travels outside India.
SN: Your concluding remark, there is no scam in National Games works?
GG: Ses, everything is transparant, National Games are yet to begin and 98 p.c works of Games is yet to be completed. Where the question comes of the scam. Not even a single rupee has bene paid to the contractors.
Comment