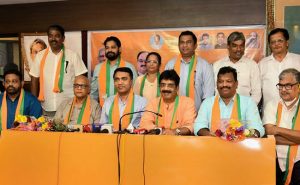 Goemkarponn Desk
PANAJI: Former Congress president Girish Chodankar today filed a fresh application before the Speaker Ramesh Tawadkar demanding that the disqualification petition filed against eight MLAs be taken up for adjudication at the earliest.
Chodankar had on November 11 filed plea seeking disqualification of the eight MLAs, who had defected from Congress and joined BJP in September.
Chodankar today alleged that it's been 20 days since the petition was filed, however, the Speaker has not heard nor served notices to the respondents- the eight MLAs.
Chodankar said that the Supreme Court has ruled that disqualification plea has to be dismissed within three months.
He charged that the adjudication in the matter is being "unreasonably delayed".
"Applicant states and submits that delay in disposal of disqualification petition virtually amounts to defeating the very purpose and objectives of anti-defection law as contained in Tenth Schedule of the Constitution," the application states
It further states, "the delay in deciding the disqualification proceedings is against the very object of Tenth Schedule of the Constitution of India. It is submitted that justice delayed is justice denied and in present case the delay caused in delivery of justice is giving undue and undeserving benefit to the respondents to illegal continue as member of the Legislative Assembly," it's states
MLAs Digambar Kamat, Michael Lobo, Delilah Lobo, Kedar Naik, Rajesh Phaldesai, Sankalp Amonkar, Rudolf Fernandes and Aleixo Sequeira had joined the BJP after passing a resolution in a meeting of the Congress Legislature Party.
Congress MLA Carlos Ferreira, also an advocate, said "we were looking for certain elements and material, which is why filing of petition is delayed".
"The Congress will fight to make sure that such kind of unprincipled defections dont take place," Ferreira said.
"Any citizen can file (petition). People are agitated and upset. People will come forward to file petitions to seek their disqualification," he further said.
Comment