Vasco fish vendors say new shed filthy, want to stay in the old place for now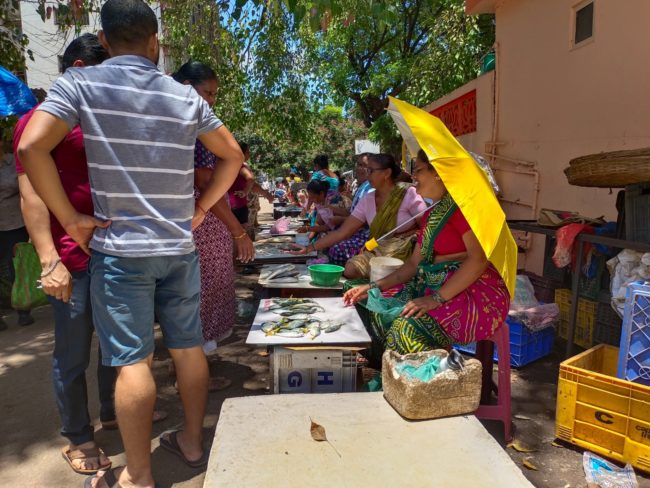 Goemkarponn desk
VASCO: Vasco fish vendors society has written to the Chief Officer of MMC asking to extend their functioning in the old market shed until Friday and cleanliness at the new market shed.
As per the letter addressed to the Chief Officer of Mormugao Municipal Council on Thursday by the Vasco Fish Vendors Society,
It has been said that the Vasco Fish Vendors, in principle, agreed to shift to the temporary shade
erected and hand over the old Fish Market to MMC, Vasco-da-Gama, to erect new construction for the Fish Market.
Society has also requested till Friday to allow the operation in the Old Fish Market, and thereafter, they will shift to the new temporary shade.
The society also reminded us that it was orally agreed that all safety and cleanliness measures would be taken up first before shifting to the new temporary shade.
Society pointed out that It is noticed the fully grown trees impose imminent danger, and with the cyclonic wind, the said rees may come down and crush temporary erected shade and the human life and the property.
It appears that the surrounding of the said temporary shade sufficient cleanliness has not been made so also the drainage and there is total apprehension the
water will accumulate in both rainwater and wastewater, which may create health problems and unbecoming situations for Vendors and customers.
It is also noticed that there are no suffiçient sitting arrangements and as such there is a need to extend the existing shade to accommodate all the fish
Vendors as well as fruit and Vegetable vendors who used to do the business in the old market.
This is to bring to your notice if any unwanted incident takes place leading to destruction of the property and human Life, Mormugao Municipal Council will be held responsible for the damage and loss caused and liable to be compensated for those who will be a victim of the tragedy.
It is, therefore, urgently requested to take appropriate steps to make the safe stay in the newly erected temporary shade especially taking necessary steps as far as the fully grown tree is a concern which is an imposing danger to life and property.
It is also requested to make sufficient arrangements for vendors and the cleanliness and drainage.
When contacted, Chief Officer Jayant Tari asked about this letter; he said that so far, he has not come across any such letter from the fish vendors.
The shifting is ongoing, and the asbestos sheets dismantling will be completed today. MMC and fish vendors had also signed an MoU about shifting of vendors, and what more could be done than nice shifting into a new shed, Tari questioned.
Comment