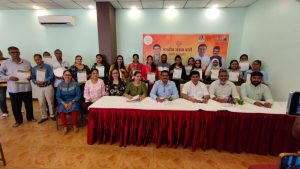 Goemkarponn desk
VASCO: Vasco MLA Krishna Salkar on Tuesday said that Vasco da Gama would be the first Municipal jurisdiction in Goa that would soon be free of advertising banners.
Salkar was speaking to reporters after distributing sanction letters of Laadli Laxmi to beneficiaries in the presence of Vasco BJP Mandal President Deepak Naik, Mormugao Municipal Council (MMC) Vice Chairperson Amay Chopdekar, Councillors Shami Salkar, Girish Borker and others.
"We have seen banners put all over the city, and I also have been putting my banners. However, sometimes we have noticed that people put banners all over the place without any permission and sometimes these banners are placed at such locations that block visibility and even cause accidents," he said.
He said the MMC also does not seem to earn any revenue while the city also looks ugly, and this is why he have requested the MMC to stop having banners at all and set an example by being the first city which will be banner free.
"We are planning to identify two to three spots where there is no hindrance to the people, and only these spots can be used for advertising. The banners, besides causing accidents, also cause pollution because the flex cannot be recycled. These advertising banners cause accidents, create pollution and also make the city look very shabby, and hence we have decided to make the city banner free," said Salkar.
"It is a great pleasure that we are distributing sanction letters of the Laadli Laxmi scheme that was started by former CM Late Manohar Parrikar. The Government led by CM Dr Pramod Sawant is walking in the footsteps of Parrikar, and we continue to offer this scheme where beneficiaries get Rs one lakh," he says.
He said they have managed to continue to scheme despite the Covid Pandemic, and this scheme has never been discontinued, and same is the case with other public beneficial schemes as well.
"It is nice to see smiles on the faces of these young women who have benefited from the scheme, which is not available anywhere beyond Goa, and this shows that the BJP is doing a great job in Goa and throughout the country. We are happy to return back the money of the people to them without any hassles," said Salkar.
Vasco BJP Mandal President Deepak Naik said that it was a great initiative of Vasco MLA Krishna Salkar and said that MMC The MMC has also decided to take a resolution in this regard.
"We have seen that some cities like Chandigarh have gone banner free, and the city looks neat and clean. We have seen that people don't even seek permission and just put their banners anywhere they want, and we have decided to take the point in the council meeting and make a resolution to make the city banner free. We are also trying to identify two to three spots as dedicated advertising points, and advertising at these places will also have higher charges so that the MMC can generate revenue as well from advertising. We are also trying to insist on banners made of cloth materials," said Naik.
Comment