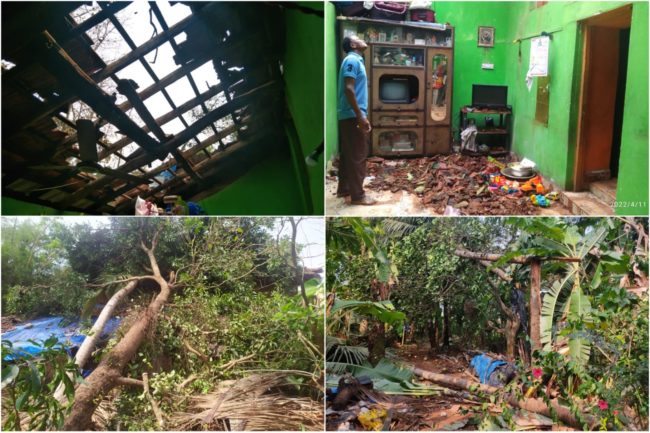 Goemkarponn desk
PONDA: A mere 15-minute Cyclonic wind, accompanied by rain, thunder and lightning, yesterday (Sunday) night at around 10 pm, wreaking havoc at Shiroda.
Several trees were uprooted and collapsed on around 28 houses causing losses to the tune of Rs 50 lakhs, creating panic among the locals.
Following the winds and cyclonic situation, Shiroda was left in darkness as several electricity poles also collapsed.
The locals said they witnessed such destruction the first time.
During the incident, several houses' roofs were damaged while roofs of some homes were blown away in the cyclonic wind.
The local youth helped the fire personnel, who came from Ponda and Kundaim, in clearing trees on the house, the work on which is still pending, said the fireman.
Electricity supply was disrupted in the area with round 4 poles carrying 33 kV lines and 5 carrying high/low tension 11 kV lines were uprooted on the ground along with lines causing major losses to the department.
The work on restoration is still on at Shiroda, and the Fire personnel from Ponda and Kundaim Station were still clearing the tree fallen on houses.
During the cyclonic wind, different kinds of trees, including coconut, mango, jackfruit, and banyan, crashed on one house at the same time, damaging the house of Prakash Naik.
His wife Sarita was trapped in the house. However, both husband and son rescued her and shifted to Shiroda PHC. She received shoulder injuries.
The 28 houses that suffered major losses include Prakash Naik 3 lakh, Shrimati Naik 4 lakh, besides this Krishnanand Lotlikar, Vasu Naik, Ratnakar Naik, Geeta Shirodkar, Bostaev Rodrigues, Mingel Fernandes, besides others. The bagayat trees of Namdev Shirodkar were also damaged.
The local Sarpanch Amit Shirodkar and Talathi Pandur Naik inspected the affected area.
Electricity Department suffered major losses due to damage to electric poles, said EE Bharatan at Electricity Sub Station Curti. He said Electricity restoration work on 11 kV lines was restored while repair on 33 kV lines passing from marshy land was in progress till late evening today.
Besides Shiroda, the Ponda Fire personnel also received calls from Borim, Kavlem, and Dharbandora. Many parts of Ponda fall in darkness due to lightning, which affects the power supply at the Main Station at Curti.
Comment