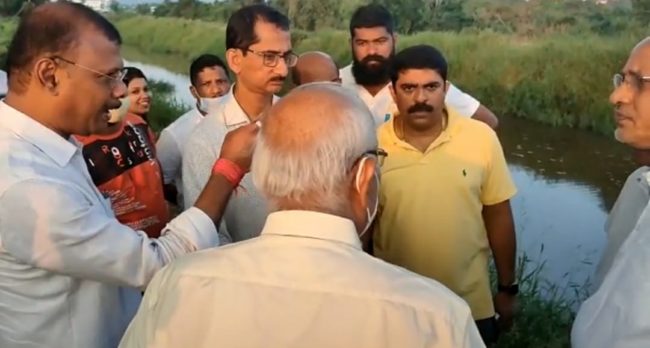 Goemkarponn desk
MARGAO: Following opposition of the citizens, the Public Works Department Minister Deepak Pauskar announced that a 980-meter elevated bridge would be constructed to avoid fields and structures.
Speaking to reporters after the joint inspection, Pauskar said the elevated bridge would be completed within a year.
"A 980-meter elevated bridge from the wholesale fish market to Comba approved; The 2.7 km Western bypass road to be completed within a year," said Pauskar.
He, however, the works depend on the National Green Tribunal and the High Court orders wherein the petitions are pending against the Western bypass.
Fatorda MLA Vijai Sardesai said the recommendation of experts to have 980m of Fatorda Section of Western Bypass elevated on stilts has to be confirmed by HC/NGT at earliest.
"Cross drainages to prevent flooding in coming monsoons have to be constructed! If only @GovtofGoa followed our #DevelopmentByConsen model," he said.
The National Green Tribunal, while admitting a petition on Western bypass near Margao said that the construction of road may be a necessity but should not
result in the destruction of bio-diversity.
Applicant Royla Fernandes had approached the NGT saying that the Margao National Highway Western Bypass has already been constructed from Nuvem village up to the Seraulim fish market through Khanzan lands/wetlands and agricultural lands.
She said that the road is further to be constructed from wholesale fish market road Seraulim to Varca road South Goa by destroying the large wetlands/khazan lands, agricultural lands and water bodies of the said villages. As of now, the project is fully on earthen embankments with one railway overbridge and three underpasses and nine box culverts, passing through khazan lands, paddy fields, Water bodies, through villages of Verna, Nuvem, Seraulim, Benaulim, Navelim and Telaulim, besides a very small portion in Margao municipal area by illegally filling the said agricultural lands and water bodies and wetlands/khazan lands. The residents of Seraulim and Benaulim vehemently objected to the construction of the Margao National Highway Western Bypass on earthen embankments, through the villages Seraulim to Benaulim as the said construction would lead to water stagnation, resulting in flooding and inundation of houses located in and around the vicinity of villages Seraulim to Benaulim. Therefore, the residents of Seraulim and Benaulim demanded the roads to be constructed on stilts and also requested against access/service roads since the service roads are already in existence.
The NGT said it has found prima facie case for consideration having regard to the averments in the application.
Comment